The high price of beef isn't expected to drop anytime soon.
Rod Anderson, owner of the Kansas City, Mo.-based company that operates the chain of Hereford House restaurants, said the company recently raised its menu prices by 6 percent to 9 percent to account for the higher price of beef.
Anderson said he decided to increase menu prices after learning from his suppliers that beef prices were expected to remain at or near historic highs throughout the spring and possibly into 2005.
"There's not anybody predicting much relief," said Anderson, who operates a Hereford House at Sixth Street and Wakarusa Drive in Lawrence.
People who buy their beef at a grocery store rather than a steakhouse shouldn't expect a rollback in prices either.
Jim Lewis, owner of Checkers at 23rd and Louisiana streets, said his prices remained about 25 percent higher than they were a year ago.
"What they see right now is what it will be for quite a while," Lewis said.
But steakhouses are being hit even harder by the price increases because they often use a higher grade of meat than is sold in grocery stores, Anderson said. He said the choice and prime-grade cuts he bought for his four restaurants had increased in price by 30 percent to 80 percent since late September.
Gary Bartz, owner of Don's Steak House, 2176 E. 23rd St., said he hadn't increased menu prices but expected he would be forced to in the near future.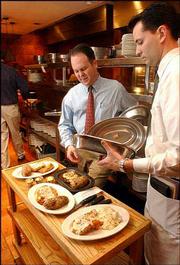 "We think these beef prices have pretty much set in for the long term," Bartz said.
Bartz said between the high price of beef and the struggling economy, business at his restaurant was off 25 percent.
Anderson didn't comment on specific sales totals but said his restaurant had started to adapt to people turning away from beef. He said the restaurants had added pork chop and lamb chop specials to its evening menu. Bartz said his restaurant also was planning on launching a pork steak special soon.
Agriculture experts have blamed the increase in beef prices on several factors, including a ban on Canadian beef after bovine spongiform encephalopathy -- or mad cow disease -- was found in a single Canadian cow this summer. Also, several years of near-drought conditions have decreased the number of cattle that ranchers have been able to keep in pasture.
The good news for consumers is that Anderson doesn't foresee another large price increase anytime soon.
"I don't think they should anticipate much of an increase from where we are at now, but I also don't think they should plan on them going down to where they were anytime soon," Anderson said.
That's good news for cattle ranchers. Anderson said before this year's price increases, the cattle industry was in dire straights.
"The ranchers needed to have a boom or else a lot of them would have been out of business," Anderson said.
Copyright 2018 The Lawrence Journal-World. All rights reserved. This material may not be published, broadcast, rewritten or redistributed. We strive to uphold our values for every story published.