It was still dark when Dick Wilson jogged onto the school track to run some laps with a couple of buddies.
And while he may have jogged getting to the track, that was just a warmup. Wilson, 71, is one of the top age-group runners in the country, and each run has a purpose.
On this chilly morning he was running eight 400-meter laps, aiming to run each in 90 seconds, followed by a 400-meter recovery jog.
His sense of pacing is finely honed after many years of running. In the dark, unable to read his watch, he ran each lap either at or within a couple of seconds of his target time. He stopped briefly after each lap to write down his time.
"Dick's a marvel of genetics," said Jim Dicker, of Lawrence, who often runs with Wilson.
He's not the only one.
At an age when many of their contemporaries are using walkers to get around, Wilson and Paul Heitzman, 72, of Eudora, are showing their heels to runners half their age.
Earlier this year, Running Times magazine ranked Heitzman No. 1 and Wilson second in the nation in the 70-74 age group for their 2002 achievements.
"They are both great athletes who are a credit to Kansas," said Norm Green, chairman of masters long-distance running for USA Track & Field, the national governing body.
Wilson and Heitzman both run close to a seven-minute-mile pace at distances up to a half-marathon, which puts them near the front at most races.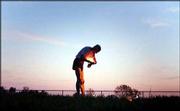 "The greatest feeling in the world is to stand at the starting line of a big race, waiting for the gun to go off," Heitzman says.
Late bloomer
Heitzman, a retired high-school teacher who still farms, began running shortly before he turned 60.
He was shoveling gravel on a construction job one hot Kansas summer day, he recalls, when he thought, "What am I doing this for?"
When the job ended, he quit and soon thereafter took up running as a way to stay in shape.
"I found I had talent for running, and success came very rapidly," he said.
His success includes the U.S. indoor and outdoor records for 3,000 meters for the 65-69 age group and numerous age-group and single-age records in Kansas, Missouri and Oklahoma, where he races frequently.
He also was named the 2002 Outstanding Long-distance Runner for the 70-74 age group by USA Track & Field and the 2002 Outstanding Track Runner for that age group, a rare double.
"He runs on the track extremely well and he's also a great road racer," said Suzy Hess, publisher of National Masters News, in Eugene, Ore., the official publication for masters track and field. "He's very good and very fast and he loves to run."
Former smoker
Wilson was a member of the Kansas University cross-country team that won the 1953 NCAA championship, and he won the Big Seven Conference 2-Mile championship in track.
After graduation he served in the military, got married, and returned to his home state of New York to work for Travelers Insurance Co., later living in Chicago and Indianapolis.
"I stopped running after college for 22 years," he said. "I didn't do any physical activity. In fact, I smoked for 22 years."
He resumed running in 1978.
"A neighbor of mine asked me to jog with him to lose weight," Wilson recalls. "We started with a half mile a day and over six months worked up to five miles."
That fall he entered a three-mile road race, "just for fun. I finished fifth overall, and that kind of got me interested in running."
He also quit smoking.
"A month after I started running, I thought, this is crazy, either quit running or quit smoking," he said. "I quit smoking, and it didn't bother me one bit."
Over the years, he has won age-group national championships at distances ranging from the mile and two-mile to the half-marathon.
His favorite race is the Indianapolis 500 Festival Mini-Marathon, which he first ran in 1981. Since then, he has run the race 16 times, winning his age group 14 times and finishing second twice.
He continues to excel at that distance.
At the 2003 Gary Bjorklund Half-Marathon in Duluth, Minn., Wilson finished in 1 hour, 32 minutes -- a pace of 7:04 per mile. He won his age group by 23 minutes and finished 249th overall of 4,406 finishers.
Different distances
Wilson and Heitzman seldom race each other because Wilson prefers races from the 10K to the half-marathon while Heitzman focuses on the 5K to 10K distances and frequently runs in track meets.
Heitzman runs more than 30 races a year on relatively low training mileage, less than 30 miles a week.
His weekly long run is about six miles, usually on a grass trail at a nature preserve near his home. As a concession to age and flat feet, he now drives the mile or so to the nature preserve rather than running to it on a gravel road, as he once did.
"I run at first light in the summer," Heitzman says. "When the weather cools, I run in the evening. I'm not so tired that way."
He runs three to four miles on the trail most days and runs 400-meter intervals on a track with a running buddy once a week.
"I don't run the day before race," he says, "Otherwise, I don't miss many days."
Wilson's running efforts are sponsored by the New Balance shoe company.
He hopes to continue to run well for at least four more years.
"I'd like to be able to compete at a level that would allow me to compete in the World Championships in 2007," he said.
Heitzman, retired from teaching at Shawnee Mission Northwest High School, stays busy tending to a few cattle, chickens and a big garden.
"In the fall, I cut a lot of firewood," he said. "And I'm always building something. I restored a couple of old farm wagons and I'm building an addition on my son's house."
Heitzman is still running well, with a 25:24 this year at Kansas City's Trolley Run 4-mile and a 20:18 at the Raintree 5K in Lawrence, but he's uncertain how long he will continue to run.
"There just aren't many people in their 70s running races," he says. "I'm going to run next year, I know that. Beyond that, I'll see."
Copyright 2018 The Associated Press. All rights reserved. This material may not be published, broadcast, rewritten or redistributed. We strive to uphold our values for every story published.