Northwestern senior running back Jason Wright tied career highs in rushing yards (196) and touchdowns (four) in the Wildcats' 28-20 victory over Kansas University on Saturday at Memorial Stadium.
Not bad for a guy saddled with cramps the entire fourth quarter.
"The calves went, the forearms went, the neck went, so I had to take some plays off," said the 5-foot-10, 210-pound Wright, who carried the ball a career-high 41 times -- 17 more than his previous high -- on a rain-soaked field. "I didn't realize I had that many carries. Maybe that would explain why I'm cramping up."
The cramps were so bad that Wright, who gained 196 yards and scored four TDs against Indiana last November, needed an IV after the game.
"I'm strugglin', strugglin'," said Wright, who rolled for 144 yards in the first half including TD runs of 18 and four yards that propelled the Wildcats to a 14-0 lead.
Wright scored on two 1-yard TD bursts in the fourth quarter, busting a 14-14 tie with 11:10 left and expanding a 21-20 lead with 1:03 to play.
All of his scores came in the rain.
"I'm not used to it. Like the song says, 'It never rains in Southern California,'" said Wright, a Diamond Bar, Calif., native who totaled seven 100-yard rushing games in his final 10 games a year ago, earning honorable mention all-Big Ten Conference. "It was more a running back's kind of atmosphere. It was more of a workhorse day. I kind of took the challenge, tried to step up."
Because of Wright, Northwestern survived blunders on the soggy field. The Wildcats gave away two TDs -- one on a David McMillan 31-yard interception return and another on Darren Rus' 20-yard fumble recovery.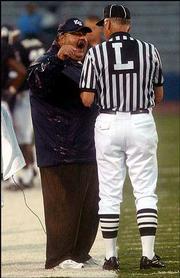 "I woke up today and it was a downpour. I said, 'Some haywire things can happen in conditions like this,' and they did," Northwestern coach Randy Walker said. "When the ball gets wet, conditions can deteriorate and some crazy things can happen.
"I thought it, but didn't put that thought in the kids' minds. I didn't say, 'Let's get ready for some nutty stuff tonight,' but I definitely thought some crazy things might happen."
Weather contributed to a decision that would have been second-guessed had Northwestern lost the game.
Up 14-0 in the third quarter, the Wildcats went for a first down instead of kicking a field goal on a fourth and one from the KU 17. Wright was stuffed for a six-yard loss, and KU scored back-to-back touchdowns in the next 41/2 minutes.
"I think we were going into the wind at the time. The conditions made you make decisions you didn't want to make," Walker said. "We gave them the ball and the wind in the third quarter because we wanted the wind in the fourth quarter. I did it because as wet as it was and as hard as it was raining, let's not take a chance (and kick)."
A sunny spot for Northwestern was the defense. The Wildcats ranked next-to-last in NCAA Division I in defense a year ago. Saturday, the Wildcats allowed one offensive touchdown -- Mark Simmons' 74-yard pass reception -- from Jayhawk quarterback Bill Whittemore.
"The defense was great. Our attitude has changed so much this year, offensively and defensively," said Northwestern quarterback Brett Basanez, who hit 23 of 36 passes for 219 yards, no touchdowns and one interception. "We played hard. It's our new attitude this year."
Northwestern, which went 3-9 last year and 1-7 in the Big Ten, will meet Air Force Saturday in Evanston, Ill.
Copyright 2018 The Lawrence Journal-World. All rights reserved. This material may not be published, broadcast, rewritten or redistributed. We strive to uphold our values for every story published.