New York — Roberto Alomar and Frank Thomas put the latest "Big Hurt" on the New York Yankees.
Alomar and Thomas homered in Chicago's seven-run fourth inning as the White Sox routed David Wells and the Yankees, 11-2, Wednesday night.
"We're trying to win," Thomas said. "Kansas City is right there with us, so our work is cut out for us."
Alomar drove in four runs with a two-run homer that capped the fourth-inning outburst and a two-run double in the sixth that chased Wells, who was charged with a season-high 10 runs.
Bartolo Colon struck out a season-high 10, and the AL Central-leading White Sox had 15 hits in winning for the eighth time in nine games.
"It was kind of what we've been looking for all along," manager Jerry Manuel said. "He came in on a good stage following (Esteban) Loaiza's outing and pitched tremendously right from the first pitch."
The Yankees' AL East lead over Boston, which was 7 1/2 games last Thursday, was cut to four. After Thursday's series finale, New York visits Fenway Park for a three-game series.
"We can't worry about Boston," shortstop Derek Jeter said. "We have to forget about these two games and try to come back tomorrow and win. That's all that matters right now."
Chicago maintained its one-game lead over Kansas City.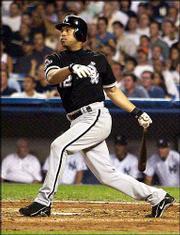 "A win is a win to me," Manuel said. "That's the bottom line at this time of year. You've got to try to win series and that's what we've done."
Thomas, who went 3-for-5, started the uprising in the fourth with a solo shot into the first row of seats in left field, quite different from Tuesday when his grand slam hit high off the foul pole in a 13-2 win.
Chicago's 24 runs the last two nights are the most by a visiting team at Yankee Stadium since the White Sox won 10-9 and 17-4 June 17-18, 2000.
"I think we might've caught them at the right time and they might have caught us at a bad time," Manuel said.
Alomar has avoided the New York media in his first trip back to the city since being dealt by the Mets last month. He brought loud groans from fans, who booed him each time up, by ripping a two-run homer to left that gave the White Sox a 7-2 lead.
Chicago pounded two homers, a triple and three doubles in the fourth off Wells (12-5), who has just one victory since the All-Star break. The left-hander had won six of eight decisions but is 0-2 in his last six starts. Wells was replaced by Antonio Osuna with one out in the sixth after yielding 11 hits and walking two.
Angels 5, Twins 4
Anaheim, Calif. -- Scott Spiezio hit a tiebreaking home run in the seventh inning and Bengie Molina also homered as Anaheim won. Minnesota's loss, coupled with victories by Chicago and Kansas City, left the defending AL Central champions 2 1/2 games behind the White Sox and 1 1/2 behind the second-place Royals.
Ben Weber (4-1) pitched 1 1/3 innings for the victory, allowing a run and three hits. Brendan Donnelly worked a scoreless eighth, striking out pinch-hitter Michael Ryan with the bases loaded to end the inning.
Troy Percival recorded three outs for his 28th save in 30 chances. Percival has not allowed an earned run over 37 innings in his 35 career appearances against Minnesota.
Juan Rincon (3-6), who replaced Kenny Rogers with two outs in the sixth, retired the first two batters in the seventh before Spiezio drove a 1-2 pitch to right field for his 13th homer and a 5-4 lead -- ending a string of 22 2/3 consecutive scoreless innings by the Twins' bullpen.
Torii Hunter tied it at 3 in the sixth, greeting Weber with a two-out RBI single after Matthew LeCroy singled with one out against starter Aaron Sele and advanced to second on a groundout.
Devil Rays 8, Mariners 4
Seattle -- Travis Lee hit a two-run homer, and Julio Lugo and Aubrey Huff added solo shots on consecutive pitches as Tampa Bay beat Seattle. The Mariners fell a game behind Oakland in the AL West. It's the first time since April 14 the Mariners, who have one victory in the past eight games, haven't held a share of first place. Tampa Bay stopped a six-game losing streak.
Athletics 6, Orioles 2
Oakland, Calif. -- Miguel Tejada hit two homers and Barry Zito pitched eight innings of four-hit ball as Oakland won its fifth straight game. Zito (11-11) retired 19 of his first 21 batters, taking a two-hitter into the eighth. With his nasty curveball back in top form, he struck out three and walked two in his third victory in four starts. Tejada hit a solo homer in the second and a two-run shot in the fifth off Pat Hentgen (5-7) for his seventh career multihomer game.
Red Sox 6, Blue Jays 3
Boston -- Todd Walker hit a tiebreaking homer in the seventh inning as Boston overcame a three-run deficit and beat Toronto for its sixth win in seven games. With the score 3-all, Walker connected on an 0-2 pitch from Roy Halladay (17-6) for a two-run homer. He became the ninth Boston player with 10 or more homers, a Red Sox first. David Ortiz added an eighth-inning solo homer for Boston, which tied the game in the fifth on a three-run homer by Jason Varitek, who has a career-high 79 RBIs. The Red Sox had 11 hits, their eighth straight game with 10 or more.
Indians 9, Tigers 7
Cleveland -- Jody Gerut drove in four runs while Coco Crisp had four hits and scored four runs to lead Cleveland past Detroit. The Tigers hit a season-high five homers, but once again failed to win consecutive road games. They have not won two straight on the road since June 3-4 at San Diego.
Copyright 2018 The Associated Press. All rights reserved. This material may not be published, broadcast, rewritten or redistributed. We strive to uphold our values for every story published.