Madrid, Spain — Tens of thousands of people got pasted Wednesday in one of Spain's most popular summer traditions -- the annual tomato-throwing festival.
Participants pelted each other with overripe tomatoes, turning the streets of the eastern Spanish town of Bunol into red, juicy pools in an annual festival known as "La Tomatina." It is said to be the world's largest tomato battle. Last year, the crowd numbered around 38,000 -- more than four times the population of Bunol.
The festival, held on the last Wednesday of every August, started in the 1940s when children began throwing their lunch at each other one day in a downtown square at a time when the region's tomato exports were starting to pick up.
They met again the following year, this time pelting passers-by as well and giving birth to the food fight.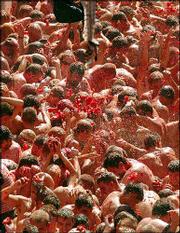 Copyright 2018 The Associated Press. All rights reserved. This material may not be published, broadcast, rewritten or redistributed. We strive to uphold our values for every story published.