Montgomery, Ala. — A 2 1/2-ton granite monument of the Ten Commandments that became a lightning rod in a legal storm over church and state was wheeled from the rotunda of the Alabama Supreme Court building Wednesday as protesters knelt, prayed and chanted, "Put it back!"
Suspended Alabama Chief Justice Roy Moore, who installed the engraved set of tablets two years ago and risked his career to keep it there after a federal judge ordered it removed, said he would take his fight to the U.S. Supreme Court.
"It is a sad day in our country when the moral foundation of our laws and the acknowledgment of God has to be hidden from public view to appease a federal judge," he said.
To the dismay of scores of supporters who had held a weeklong vigil outside the front doors, the 5,280-pound monument was jacked up by a work crew and taken away to a back room.
Building officials did not immediately say where the monument would be stored or whether the public would ever be allowed to see it.
U.S. District Judge Myron Thompson of Montgomery had ruled last year that the monument violates the Constitution's ban on government endorsement of a religious doctrine.
"This is a tremendous victory for the rule of law and respect for religious diversity," said the Rev. Barry Lynn, executive director of Americans United for Separation of Church and State. "Perhaps Roy Moore will soon leave the bench and move into the pulpit, which he seems better suited for."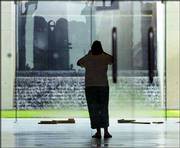 As the monument left public view, a federal judge in Mobile dismissed a lawsuit that had been filed this week in a last-ditch effort to block its removal.
Asked about President Bush's view of the controversy, spokeswoman Claire Buchan said: "It is important that we respect our laws and our courts. In some instances the courts have ruled that the posting of Ten Commandments is OK. In other circumstances they have ruled that it's not OK. In either case, there is always opportunity for appeal of courts' decisions."
Outside the Alabama courthouse, demonstrators lay face-down on the pavement, knelt in prayer on the steps, and recited the Pledge of Allegiance and the Lord's Prayer. Four men linked arms and chanted, "Put it back!"
Hundreds took part in the vigil, and organizers said the protest would not end with the monument's removal.
"They can move it out of view, but they can't move it out of our hearts," said Rick Moser, 47, of Woodstock, Ga.
In neighboring Mississippi, Democratic Gov. Ronnie Musgrove and Republican gubernatorial candidate Haley Barbour said they want the monument if Alabama does not. Musgrove said he would display it in the Capitol for a week, and hoped other states would do the same. Barbour said he'd like to have it for the governor's mansion.
Copyright 2018 The Associated Press. All rights reserved. This material may not be published, broadcast, rewritten or redistributed. We strive to uphold our values for every story published.