Katsina, Nigeria — A tearful 32-year-old woman cuddled and nursed her toddler in an Islamic appeals court Wednesday as lawyers pleaded she be spared death by stoning for having sex outside marriage.
Heavily veiled and draped in the sweltering courtroom, Amina Lawal appeared overwhelmed by the crush of riot police, journalists and rights workers as she arrived for a case that has sparked international campaigns on her behalf.
"I've never been this afraid," Lawal said, crying as she made her way past police ringing the courthouse in northern Nigeria's Katsina state. "I'm tired of all this."
The divorced woman was convicted of having sex outside marriage in March 2002 by an Islamic court following the birth of her daughter, Wasila, out of wedlock. The young girl is now nearly 2.
Introduction of Islamic law, or Sharia, has heightened Muslim-Christian tensions in Nigeria, Africa's most populous nation. Religious, ethnic and political violence has claimed at least 10,000 lives since President Olusegun Obasanjo's 1999 election ended 15 years of repressive military juntas.
Judges said Wednesday that they would issue a ruling in the 1 1/2-year-old case on Sept. 25. But court action could still continue with a possible appeal to the Islamic system's own high appeals court and, after than, to Nigeria's top federal court.
An Islamic court convicted Lawal in March 2002 following the birth of her baby, more than two years after Lawal and her husband divorced.
Judges ordered her buried up to her neck in sand and stoned. While appeals continue, courts have ordered Lawal's execution postponed until her child is weaned.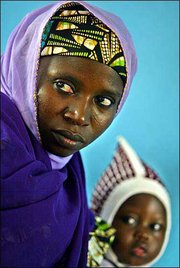 The alleged father of the baby denied responsibility and was acquitted.
On Wednesday, Shariah court prosecutor Nurulhuda Mohammad Darma argued Lawal's pregnancy and divorced status were "enough evidence" of a crime.
"There is no other excuse that is acceptable," Darma told the court.
However, in closing remarks, Darma said the prosecution "would not object if the court finds a good reason to set Amina free."
He told journalists later that the prosecution would drop the case if Lawal wins this appeal.
Defense lawyer Aminu Musa Yawuri urged judges to acquit Lawal, arguing that an earlier confession was invalid because no one had explained to Lawal -- a poor, uneducated woman from a farming family -- the nature of the offense or the punishment.
"I expect an acquittal," head defense lawyer Hauwa Ibrahim told reporters. "In case that does not happen, we are prepared for the worst. We will go up to the Supreme Court."
Copyright 2018 The Associated Press. All rights reserved. This material may not be published, broadcast, rewritten or redistributed. We strive to uphold our values for every story published.