Orlando, Fla. — The crash of a DC-9 into the Everglades in May 1996, killing all 110 people aboard, made an industry pariah of the low-fare airline ValuJet.
A little more than seven years later, the carrier, now known as AirTran Airways, has made a stunning recovery.
So far in 2003, AirTran has started offering cross-country service, announced a $5 billion aircraft order and reported its fifth-consecutive quarterly profit at a time when financial fortunes are sagging for many major carriers.
"Six years ago, you had old planes, poor service, weak management," said Ray Neidl, an airline analyst with Blaylock & Partners in New York. "Everything has completely changed."
The airline, which began flying this year to Denver, Las Vegas and Los Angeles, will add Ronald Reagan Washington National Airport and San Francisco to its schedule later in the year. AirTran officials say they plan to expand into new markets, most likely the West Coast and Midwest, particularly as American Airlines and other carriers reduce service to cities such as St. Louis.
AirTran now offers 492 flights a day to 43 cities, but will grow even faster with plans to open service in three to five new cities each year.
"We can put airplanes anywhere," said Joe Leonard, AirTran's chairman and CEO. "We'll keep pushing our web out further and further."
Most low-fare airlines try to distinguish themselves as carriers that offer more than just cheap tickets because major airlines can always match their prices. JetBlue has onboard TV and leather seats. Southwest has an irreverent sense of humor with its shorts-clad crew singing silly jingles. The old ValuJet had a cartoon critter logo that adorned its aircraft.
AirTran doesn't have any such distinguishing features, said Alan Bender, a professor of airline economics at Embry-Riddle Aeronautical University in Daytona Beach.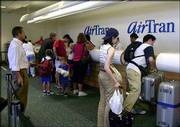 "I haven't been able to figure out in the case of AirTran what their gimmick is," he said. "I scratch my head at what makes AirTran special."
Crashes are costly
The airline may lack a gimmick, but its turnaround is unprecedented in recent commercial airline history, Bender said. Other airlines, such as Air Florida, have sunk under the weight of fatal crashes. Air Florida folded in the late 1980s, just a few years after the 1982 crash of Flight 90 into a Washington bridge, killing 78 people.
ValuJet appeared headed in the same direction.
Investigators blamed the May 1996 crash on explosive-tipped oxygen generators that ValuJet's repair contractor, SabreTech Corp., improperly packaged as cargo. The airline was vilified, temporarily grounded and its maintenance contractor was convicted of criminal charges. Eight of the nine counts were later thrown out on appeal, but it marked the first time an aviation company was prosecuted in response to a U.S. air disaster. Insurers for the companies ended up paying the families of victims tens of millions of dollars.
"I would bet significant money that they wouldn't have made it without the name change," Bender said. "That was a stroke of genius because they couldn't have been perceived by the public as more of a pariah than they were."
Road to recovery
AirTran's road to rehabilitation began in 1997 when ValuJet acquired AirTran, dumped its cartoon critter logo and moved its headquarters to Orlando from Atlanta. Next came a management shakeup in 1999 that brought a new team of executives headed by Leonard, a longtime industry executive who served as chief operating officer for now-defunct Eastern Air Lines. Only one member of the company's current 14-member leadership team worked for ValuJet at the time of the crash.
No factor, Leonard said, has been more important to the company's turnaround than retiring the airline's aging DC-9s and bringing in new, roomier Boeing 717s for short to medium hauls. The last DC-9s will be retired from AirTran's fleet later this year.
The airline last month placed an order for 50 new Boeing 737s and an option for 50 more and ordered up to 10 Boeing 717s.
Industry experts said the new planes have dramatically improved AirTran's safety record. "Now you look at the airline and it's one of the most modern fleets in the world," said John Wensveen, a professor of airline management at Embry-Riddle.
AirTran has been one of the few airlines to remain profitable during the slump in commercial flying, and in June it had a monthly haul of 1 million passengers for the first time. AirTran reported a second-quarter net income of $57.2 million on $233 million revenue, compared with $5 million in net income on $190 million revenue in the second quarter of last year.
The company's bottom line was helped by a $38.1 million cash reimbursement from the federal government given to all carriers to blunt the effects of the Iraqi invasion on air travel. Without the reimbursement, AirTran's net income for the quarter would have been $21.9 million.
Copyright 2018 The Associated Press. All rights reserved. This material may not be published, broadcast, rewritten or redistributed. We strive to uphold our values for every story published.