Denver — For rancher Matt Anderson, contracting the West Nile virus has meant excruciating pain, worse than when he broke his back. Jim Diehl spent weeks in a hospital with hallucinations and severe headaches.
Mary Tilger, 32, was so ill she couldn't care for her children and missed a chance to see her cousin play in a PGA golf tournament.
"It was the highlight of my West Nile virus," she said.
While most people who come in contact with West Nile-infected mosquitoes have, at worst, a mild fever, the virus can cause meningitis, pain, hallucinations and dizziness for those who become seriously ill.
Seventeen people have died from the illness this year according to a count released Friday by the Centers for Disease Control and Prevention. Kansas confirmed its first West Nile virus death Thursday.
Tilger likely has lifelong immunity to West Nile now, but she's not about to test her luck.
"I'm being very diligent with the kids," she said. "If you don't protect yourself and use a spray or cover up ... you can be very sick and it will totally change your life."
The nation had a record 4,156 West Nile cases last year, including 284 deaths. This year isn't nearly as severe, with about 772 cases as of Friday according to the CDC.
Anderson, 41, who lives in northeastern Colorado and is used to long days of work on the ranch, said he never felt pain like he experienced after contracting the virus.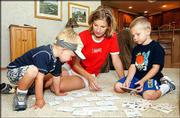 "It's like the worst case of flu you can ever imagine," said Anderson. "I've never been hit this hard." Lately, his schedule has revolved around napping.
Doctors told Diehl, 40, his symptoms were particularly severe because he suffers from multiple sclerosis. The Greeley man spent three weeks in a hospital with headaches, a 106-degree fever and weakness.
Tilger, who lives about 17 miles northwest of Denver, spent a week bedridden, and her husband had to take time off from work to care for her and the children, ages 3 and 4.
Copyright 2018 The Associated Press. All rights reserved. This material may not be published, broadcast, rewritten or redistributed. We strive to uphold our values for every story published.