The sound of music will be in the air next year when the U.S. Postal Service issues a commemorative stamp honoring Henry Mancini, renowned composer and conductor of television and film productions.
From the 1950s to the early 1990s, Mancini wrote complete scores for more than 70 films. In 1958 he wrote the musical score for "Peter Gunn," a TV drama produced and directed by Blake Edwards. His first record album, "The Music From Peter Gunn," sold more than a million copies. It won two Grammys and made Mancini a recording star.
Mancini collaborated with Edwards on such films as "Breakfast at Tiffany's" (1961), "The Pink Panther" (1964), "The Great Race" (1965) and "Ten" (1979). He also worked with other directors on the motion pictures "Charade" (1963) and "Wait Until Dark" (1967).
The new stamp features a painting by artist Victor Stabin depicting Mancini conducting. The titles of some of his most popular films and TV projects are on a scroll in the background. In the lower left is a drawing of the Pink Panther.
Postmaster General John E. Potter said, "Henry Mancini's influence on the music industry has never been stronger, and this stamp is a special way to pay tribute to his enduring genius."
Mancini died June 14, 1994. Each year, in his honor, the American Society of Composers, Authors and Publishers presents the Henry Mancini Award to a person following in his musical footsteps.
Further information on the Mancini stamp will be reported when it is ready for issuance.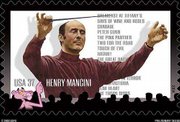 Copyright 2018 The Associated Press. All rights reserved. This material may not be published, broadcast, rewritten or redistributed. We strive to uphold our values for every story published.