It had been less than 24 hours since Lani Jacobs-Banner had given birth to her son, Andrew, and mother and child were anything but comfortable.
Andrew, born with a brain disorder that causes seizures, lay alone in an isolette in a Denver neonatal intensive care unit, surrounded by white walls, beeping medical equipment and crying babies. His mom spent the night across the street from the hospital, tossing and turning at a boarding home for parents with sick children.
"When you are just postnatal, that feels like a really long walk," says Jacobs-Banner, 28. "It would have been nice if moms like us had a place to rest."
Come fall, they will.
When it opens in September, the new Boulder (Colo.) Community Foothills Hospital will be the first hospital in the nation to replace its ward-style neonatal intensive care unit with a wing of private suites that new mothers can share with their special-needs infants.
The sprawling accommodations come with a queen-sized bed and hot tub for Mom and an adjacent room full of state-of-the-art medical equipment for the baby. Once the mother is discharged as a maternity patient, she stays free as long as the baby is sick.
The rooms signal a move away from the large, brightly lit rooms that have for decades been standard housing for premature or ill newborns. Research has shown that providing a quiet, private space for mother and child to rest together can go a long way to promote bonding and increase the chances of normal brain development in the child. It also can help reduce medical errors by involving parents in the care early on, experts say.
Hospital designers are slowly beginning to respond.
"This is the only place left in medicine where this old-style ward is still standard," says Laure Liske, director of women and family services at the current Boulder Community Hospital. "It's this way because the babies can't speak up for themselves."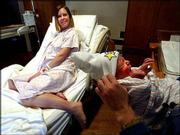 The new $75 million hospital will feature six suites where a mother can lie in her bed and look over at her newborn, sit next to him in privacy, or -- if she's tired -- shut the door and ask the nurse to keep watch.
The new hospital also will include 16 postpartum rooms for new moms and well babies, complete with queen-sized beds, views of the mountains and DVD players; a second emergency room; an eight-bed pediatric unit decorated in a summer-camp motif; and an office building housing most of the pediatricians and ob/gyns in the county.
Beverly Johnson, president of Maryland-based non-profit Institute for Family Centered Care, says that while the Boulder hospital is one of the first to provide such accommodations for sick newborns, more are soon to follow.
"Of all of the changes occurring in health care design, the most dramatic is in newborn intensive care," she says. "Thank heavens."
Copyright 2018 The Lawrence Journal-World. All rights reserved. This material may not be published, broadcast, rewritten or redistributed. We strive to uphold our values for every story published.