Topeka — Col. William Seck really believes in the Kansas Highway Patrol; otherwise, he wouldn't have left a three-decade FBI career to become superintendent of the agency.
What concerns Seck, however, is that many Kansans think troopers only stop motorists and write tickets. A top priority for the new patrol chief is to let people know that he isn't commanding troopers who just write traffic tickets.
"It's incumbent upon all of us to sell the agency. Let's educate the population about what we do and do well," said Seck, 52, who took command July 7.
Seck, who retired from the FBI after 31 years, said he planned to visit communities around the state to talk to people about what the patrol does and he wants the troopers to do the same.
"There's a lot more opportunities to be more engaged in working with civic and religious leaders," he said.
By fall, he wants to set up a "Citizens Academy," where civic leaders can learn more about what troopers do, such as assisting local police agencies when there's a crime or disaster, helping stranded motorists, inspecting trucks and driver safety education.
"It does volumes to help develop a better rapport so they know what your mission is," he said. "We are supporting the public and it is important for the public to know."
Community involvement will lead to another goal of hiring more minorities, which he said was a problem facing many law enforcement agencies in the country.
"One thing this organization needs to do more of is minority hiring, and to me that is a priority," he said. "The way to get that is get out in the community and sell the organization."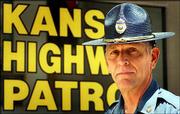 Although he comes from outside the patrol, Seck said that was not a problem in part because during his 17 years in Kansas with the FBI, he got to know many of the troopers and worked with local law enforcement.
Seck also wants the patrol to work closer with other state and federal agencies. Already, he has SWAT teams from the patrol and FBI training together so they won't be strangers when the time comes for them to work together.
"The watch word is no agency can do it all. No agency has the money or resources to do it alone, so you have to partner up," he said.
When asked by Gov. Kathleen Sebelius to replace retiring Col. Don Brownlee, Seck was in charge of FBI operations in Kansas. Sebelius said one reason she picked Seck was because the patrol's role has expanded to include homeland security.
At the time, Seck oversaw Joint Terrorism Task Force operations in Wichita, Topeka and Garden City. During his FBI tenure, he investigated violent crime, organized crime and worked in foreign counterintelligence
The terrorist attacks changed the way all law enforcement agencies do business. For instance, troopers now take a closer look at those they stop even for minor traffic offenses.
As the patrol, Seck is in charge of an agency has about 880 employees, including 475 troopers, and a $58 million budget.
Copyright 2018 The Associated Press. All rights reserved. This material may not be published, broadcast, rewritten or redistributed. We strive to uphold our values for every story published.