Orchard Park, N.Y. — Kurt Warner saw enough in Marshall Faulk's brief but impressive performance to believe the St. Louis Rams offense is ready.
Faulk scored twice in his preseason debut, including a 26-yard reception, in the St. Louis Rams' 28-24 loss to the Buffalo Bills Saturday night.
Faulk showed little sign of rust or the affects of the high ankle sprain that hampered him last season.
Playing only the first half, Faulk had 43 yards rushing on 11 carries, including a 6-yard touchdown run, in which he bounced off a tackle and made a quick burst up the right side. He added seven catches for 70 yards, and was involved in 69 percent of the Rams' first-half offense.
Those are encouraging signs for a unit seeking to return to its former "Greatest Show on Turf" heyday after struggling during last season's 7-9 finish.
"All we expect is what we did in the three years prior to last year," Warner said. "There's no question we feel we have the capabilities of doing that again."
It was OK, said Faulk.
"So far so good. This is preseason," Faulk said. "But at least I got a sense of a feel for game speed."
Faulk overshadowed what was an encouraging outing by Buffalo's Drew Bledsoe-led offense, which finally got clicking after two sub-par outings. Bledsoe completed his first seven passes and engineered scoring drives on the Bills' first two possessions.
Bledsoe finished 22-of-29 for 231 yards and two touchdowns -- an 8-yarder to Bobby Shaw and an 18-yarder to Eric Moulds.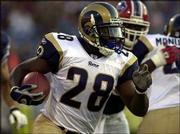 Jets 15, Giants 14
East Rutherford, N.J. -- Kerry Collins was 13-of-23 for 198 yards for the Giants (0-3). Ike Hilliard caught an 88-yard TD pass and finished with seven receptions for 150 yards. The Jets (2-2) took the lead in the fourth quarter on Chad Brinker's 2-yard run.
Titans 23, Bengals 15
Cincinnati -- Steve McNair led Tennessee (3-0) to scores on all three first-half possessions, completing 13 of 17 passes for 167 yards and a 13-7 lead. Joe Nedney kicked field goals of 48 and 31 yards, and McNair tossed a 1-yard pass to uncovered tight end Shad Meier with 20 seconds in the half. He was 7-of-8 for 81 yards in that drive.
Lions 38, Browns 17
Detroit -- Joey Harrington was 15-of-20 for 184 yards and a touchdown, and Scotty Anderson caught two scoring passes to help the Lions improve to 2-1 in exhibition play. New Cleveland starter Kelly Holcomb was 14-of-21 for 130 yards and a TD. Tim Couch fumbled his first snap and finished 2-of-6 for 25 yards and a TD for the Browns (0-3).
Redskins 24, Ravens 3
Landover, Md. -- Laveranues Coles caught a flea-flicker touchdown pass, Patrick Ramsey was 8-of-13 for 100 yards and one touchdown for the Redskins (1-2). First-round pick Kyle Boller, competing with Chris Redman for Baltimore's starting quarterback job, played the first half and went 14-for-20 for 101 yards, but most of the completions were dumpoffs or screens.
Panthers 20, Packers 7
Green Bay, Wis. -- Green Bay nose tackle Gilbert Brown, a Kansas University product, helped stuff Stephen Davis four times on a goal-line stand in his first test to see if he can play with a ruptured right biceps. Carolina (3-0) got outstanding performances from backups Chris Weinke and Walter Young, who hooked up five times for 88 yards, including an 11-yard, go-ahead touchdown in the fourth quarter.
Bucs 10, Jaguars 6
Tampa, Fla. -- Thomas Jones scored on a 4-yard touchdown run and Martin Gramatica returned from a two-week layoff to kick a 24-yard field goal for Tampa Bay (3-1). Tampa Bay's defense limited the Jaguars (2-1) to 193 yards and a pair of field goals.
Chargers 19, Texans 17
Houston -- With Cleo Lemon at quarterback, San Diego drove 32 yards to set up Mackenzie Hoambrecker's 36-yard field goal with 20 seconds left.
49ers 27, Saints 12
San Francisco -- Jeff Garcia passed for 44 yards and backup Tim Rattay had 147 more in the 49ers' victory. Rookie Brandon Lloyd caught five passes for 81 yards and a score, while Garrison Hearst, Jamal Robertson and Rashaan Salaam rushed for scores as the 49ers (3-0) earned a methodical victory.
Copyright 2018 The Associated Press. All rights reserved. This material may not be published, broadcast, rewritten or redistributed. We strive to uphold our values for every story published.