Once a center for learning, Centennial School soon could become a repository for some of Douglas County government's forgotten paperwork.
County officials are looking into renting part of the vacated school building as a storage area for tax documents, election ballots, court cases and other paperwork that must be retained to comply with state law.
The move could allow the county to postpone spending $500,000 next year for a new storage/maintenance building at the Douglas County 4-H Fairgrounds, a project that already had been delayed from this year's budget because of a revenue crunch.
The possibility didn't surface until earlier this year, when the Lawrence school board agreed to close Centennial, 2145 La., along with two other elementary schools as the district struggled with its own budget cuts.
"It's a possible win-win," said Craig Weinaug, county administrator. "If it works, we could use a building that's been paid for by the public for a public purpose, and that would be a win for the school district and a win for the county."
The county needs to relieve pressure on its already overcrowded storage areas, Weinaug said. Among the biggest are an old church building at 1242 Mass. and the mechanical room in the Judicial & Law Enforcement Center, 111 E. 11th St.
Among the smallest: a dilapidated house on a county-owned lot across from the Judicial & Law Enforcement Center, and a rented self-storage unit in southeast Lawrence.
County commissioners are scheduled to discuss storage and other capital-improvement issues at 9 a.m. Monday at the County Courthouse, 1100 Mass.
Cooperative approach
The Centennial site appears particularly desirable, Weinaug said, because of its central location, about a mile from the hub of government operations. The proximity would keep the documents close enough for daily access by court and other personnel.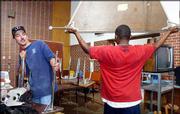 "These are records that we are required by state law to store," Weinaug said.
Randy Weseman, schools superintendent, said the county's concept was worth looking into.
Centennial already is being used as a temporary storage area for furniture, equipment and other leftovers from Riverside, East Heights and Centennial schools, which were closed in the spring.
The district has no intention of selling the Centennial property, given its proximity to Lawrence High School, 1901 La. And leasing the 29,420-square-foot building would work only if the tenant were a governmental or nonprofit organization, because use by a private company would force the district to begin paying property taxes.
That leaves a handful of short-term options, Weseman said, under which the tenants likely would pay to cover their shares of the district's maintenance and utility costs. Among those in the preliminary mix: a professor at Kansas University who needs "overflow space" for a grant, and county officials who continue to explore options.
Any decision about the disposition of the property would be left to the school board, Weseman said, but the county's concept certainly remains in play.
"It's part of this whole notion that we have about cooperation with the city and the county and trying to work together," Weseman said. "Tax money's tax money. And anything we can do to help each other out, so we don't have to lay it off to the taxpayers, I think benefits everybody. So if we can provide some storage, we're certainly willing to see what they want to do, and then take it to the board and see if it's OK."
Temporary uses
The building already is serving as a "weigh station" for school materials, said Bryan Hunter, the district's maintenance supervisor. As classes started this week elsewhere in Lawrence, Centennial's gymnasium/cafeteria was filled with dozens of items in search of new homes: tables, chairs, chalkboards, televisions, a piano, lamination machine -- even stacks of old LPs, including "The Best of Herman's Hermits."
But neighbors needn't worry about the building becoming a dance hall or large-scale maintenance operation, Weseman said.
"That building will be maintained," he said. "When you drive by there now, if you didn't know any different you'd think there was school going on. And that's the way I want to keep it. That building will be kept. It won't fall into disrepair. It's going to be kept in good shape, because we're probably going to use it."
Among the suggestions mentioned previously for the site are a relocated alternative high school or home for a technical/vocational program.
"It's been talked about in a lot of different contexts," Weseman said. "The one thing that won't happen is it won't turn into a biker bar or a storage depot where trucks -- big 18-wheelers -- are rolling in."
Copyright 2018 The Lawrence Journal-World. All rights reserved. This material may not be published, broadcast, rewritten or redistributed. We strive to uphold our values for every story published.