Boston — Kevin Millar doesn't mind being the brunt of jokes now.
Millar hit a game-winning double off the glove of leaping center fielder Mike Cameron with two outs in the 10th inning, sending the Boston Red Sox over the Seattle Mariners, 7-6, Saturday.
For the past three games, the Red Sox have shown a homemade video on the center-field scoreboard from Millar's high school days of him dancing to Bruce Springsteen's "Born in the USA."
"Oh, yeah, I get teased once the song starts playing," said a smiling Millar. "I'm a pretty big dork."
It was shown just before the Red Sox came to bat in the bottom of the ninth Saturday. It'll likely get more play because Boston posted its third straight win.
The original video surfaced when one of his friends, an FBI agent in Texas, played a prank on him. Manager Grady Little had a team meeting and some agents showed the film in the clubhouse a few weeks back.
"We certainly like the results of the games since they started showing that," Little said.
The AL West-leading Mariners dropped their season-high fourth straight game.
"We just have to stay with it," Seattle's Mark McLemore said. "It's just the way the season goes sometimes."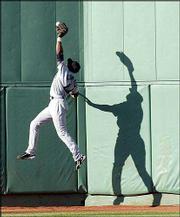 After Seattle tied it on Cameron's RBI single with two outs in the ninth, Boston bounced back in the 10th.
Damian Jackson singled with one out against Kazuhiro Sasaki (1-2), then Arthur Rhodes relieved and retired David Ortiz on a popup.
Millar followed with a deep fly to left-center and Cameron almost made yet another sensational catch. The Gold Glover jumped in front of the Green Monster, but the ball popped out of his mitt and bounced off the wall as Cameron banged into it.
Jackson scored easily as the Red Sox celebrated. Boston began and ended the day tied with Oakland for the wild-card lead.
White Sox 13, Rangers 2
Chicago -- Frank Thomas homered twice and drove in five runs as Chicago routed Texas for its sixth straight victory. Carlos Lee homered and had four RBIs, and Jose Valentin and Joe Crede hit consecutive shots.
Chicago has won 22 of its last 27 home games. Texas has lost three in a row after winning a season-high eight straight.
Mark Buehrle (11-12) pitched six strong innings, allowing an unearned run and four hits. He is 9-2 over his last 14 starts.
Buehrle retired 10 straight batters between the second and fifth innings. Dan Wright pitched the final three innings for his first major-league save.
Sandy Alomar Jr. led off the third with a single, Lee singled and Thomas homered for the third straight game for a 3-0 lead. The shot made Thomas 5-for-8 with four home runs lifetime against Ismael Valdes (7-8).
The White Sox broke open the game with a six-run fourth. Valentin and Crede homered before Roberto Alomar and Lee hit consecutive doubles off Valdes.
Thomas greeted reliever Jay Powell with his second homer of game, a two-run shot to center field that gave the White Sox an 8-0 lead.
Thomas has six home runs in six games of the homestand, and 26 of his 34 home runs have come at home.
Athletics 11, Blue Jays 5
Toronto -- Reliever Mike Wood, who took injured Mark Mulder's roster spot, earned his first major-league victory as Oakland beat Toronto. Billy McMillon hit a two-run double as part of a six-run sixth inning. The Athletics moved within two games of Seattle for first place in the AL West and remained tied with Boston in the AL wild-card race.
Wood (1-0) allowed two runs on one hit, while striking out three and walking one in 12/3 innings. The 23-year-old right-hander made his second big league appearance.
Orioles 7, Yankees 2
New York -- Rodrigo Lopez outpitched Mike Mussina with a six-hitter, and Brook Fordyce drove in three runs as Baltimore beat New York. Jay Gibbons homered and Tony Batista added a two-run double for the Orioles, who defeated the Yankees for the second day in a row.
Baltimore, swept at home by the Yankees in a four-game series last weekend, has won four straight overall following a season-high eight-game losing streak. Jorge Posada homered for the Yankees, who saw their AL East lead over Boston trimmed to five games.
Indians 7, Devil Rays 5
St. Petersburg, Fla. -- Jody Gerut and Travis Hafner each homered during a six-run seventh inning as Cleveland rallied past Tampa Bay. Casey Blake had a go-ahead, two-run single in the seventh for the Indians, who are 12-6 since Aug. 6.
Angels 14, Tigers 8 (10)
Detroit -- Garret Anderson hit a two-run single with the bases loaded in the 10th inning, and Anaheim rallied from a five-run deficit to beat Detroit. Scott Spiezio added a three-run double and Jeff DaVanon walked with the bases loaded in the 10th for the Angels, which handed the Tigers their 11th straight loss -- their third losing streak of nine or more games this season.
Copyright 2018 The Associated Press. All rights reserved. This material may not be published, broadcast, rewritten or redistributed. We strive to uphold our values for every story published.