Train rides to be offered on vintage coaches
The Midland Railway in Baldwin is breaking out vintage railroad coaches for rides over the Labor Day weekend.
The hourlong, 12-mile train rides on Saturday and next Sunday will depart at 10:30 a.m., 1:30 p.m. and 3:30 p.m. from the Santa Fe Depot on High Street, just west of downtown Baldwin.
Passengers will ride vintage train cars built around the turn of the 20th century, including 1913 and 1923 lightweight coaches from the Rock Island Railroad. The tour takes riders past landmarks from William Quantrill's retreat route after his sacking of Lawrence and the Santa Fe Trail.
The rides also will be offered on the vintage cars on Oct. 1.
For more information, call (800) 651-0388 or visit www.midland-ry.org.
Kansas Clicks
Extra officers to watch for speeding, seat-belt use
The Douglas County Sheriff's Office, with the help of the Kansas Department of Transportation, will have extra officers in the area to monitor speeding and seat-belt use beginning Friday.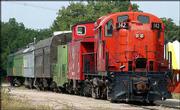 The special watch, which will continue through Sept. 4, is part of the Kansas Clicks program to increase and coordinate traffic law enforcement during Labor Day weekend.
KDOT warns drivers that speeding is a contributing factor in many motor vehicle accidents. According to department statistics, speeding contributed to 8,769 car wrecks in Kansas in 2002, killing 142 people.
State
Research group to hire analyst for health policy
Topeka -- Legislative leaders have approved allowing the Legislature's research agency to hire an analyst that will be funded by a health care organization.
The Kansas Health Foundation will provide a three-year grant of up to $250,000 to finance an analyst with the Legislative Research Department, which is a nonpartisan agency that provides research to the Legislature.
The Kansas Health Foundation is a philanthropic organization that was set up with proceeds from the sale of Wesley Methodist Hospital in Wichita.
Under the deal, which was recently approved by the Legislative Coordinating Council, the new analyst will be dedicated to research of health policy issues for the Legislature.
The position will be recruited and hired by the Legislative Research Department.
Copyright 2018 The Lawrence Journal-World. All rights reserved. This material may not be published, broadcast, rewritten or redistributed. We strive to uphold our values for every story published.