Michael Gribble wasn't surprised earlier this month by a study that found single-family home prices in Lawrence have been among the fastest-growing in the Midwest.
He had already conducted a study, of sorts, on his own: He spent months hunting for a home in Lawrence.
"I was just looking for a one- or two-bedroom home for around $50,000 or $60,000," Gribble said. "What I came up with was basically a zero.
"The real estate agents would pull up their sheets every week and basically they would find nothing."
It went like that for four months.
"Basically I couldn't find anything that was in good shape for decent money," Gribble said. "Even a fixer-upper they were wanting $60,000, $70,000, $80,000 for. I just kind of gave up."
He found what he was looking for in Overbrook, an Osage County town about 25 miles southwest of Lawrence. It's a solution more would-be Lawrence residents are resorting to, said Richard Wright, the Lawrence real estate agent who worked with Gribble.
"I have owned a lot of real estate in Lawrence and I have seen the prices escalate a lot," Wright said. "In the last 10 years, it has gotten nuts.
"The folks are definitely coming out this direction. How fast it reaches Overbrook, I don't know, but it definitely has started."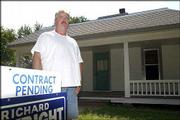 Wright estimated a typical three-bedroom home in Overbrook would sell for $25,000 to $35,000 less than a comparable home in Lawrence.
Though Gribble was pre-approved for a mortgage of as much as $120,000, he said he didn't think he should have to pay that much for a simple house. He declined to say how much he paid for his Overbrook fixer-upper, other than to say it was in his original price range and "more house than I was looking for."
There are downsides. A big one is that is new home will put him even farther away from his Olathe job, where he is paid $20 an hour as a furniture technician for a furniture store. Despite that, Gribble said buying outside Lawrence still made sense for him.
"For what I saved, I can buy a lot of gas," he said.
Limited supply
Mark Hess, a real estate agent with Hedges Realty Executives in Lawrence, said he wasn't surprised by Gribble's struggles.
"The availability of houses in that price range is very far and few between and you really have to be patient if you want to find one in Lawrence," Hess said.
Data kept by the Lawrence Board of Realtors through its Multiple Listing Service show just how limited the supply is in Lawrence. In July, only three homes sold in Lawrence for less than $70,000. That was less than 2 percent of all the homes sold in the city limits of Lawrence during the month.
That's not the case in every city. In Topeka, for example, a review of Realtor data showed 77 homes sold during July for less than $70,000, or about 22 percent of the total sold.
Mark Buhler, a partner in Lawrence's Stephens Real Estate, said home buyers, especially from other parts of the state, often have to change their expectations when entering the Lawrence market.
"For a decade we have heard comments from customers and clients that pricing in this market is pretty strong compared to many of the places they come from," Buhler said. "It is strong compared to many of the western Kansas communities and even strong compared to Shawnee or some parts of Johnson County.
"But then when we have people come in here from significantly larger cities, like San Francisco or some places in Florida, their perception is that prices are pretty attractive."
Shutting people out
The recent study of home prices nationwide, which was conducted by The New York Times, showed prices in Lawrence increased by 54 percent, adjusted for inflation, during the past 10 years. That was the 11th-fastest growth in prices across the Midwest during the period.
In 1983, a typical single-family home in Lawrence cost $56,700, according to the rankings. If the increase in prices had stayed steady since then, the median price today would be $100,359 today. Instead, the median price for a home in Lawrence was $155,300, according to the study. Median is the price at which half the homes sold cost less and half cost more.
Opinions are mixed on whether the increasing prices made Lawrence less accessible to more potential homeowners.
Wright said it appeared there was a disconnect between the wages the average Lawrence worker earned and the price of housing in the community.
"I believe it is becoming out of reach for a lot of people," he said. "If you work in Lawrence, Kansas, unless you are a professional it can be pretty tough."
Claudia Jones, an assistant vice president and lender with Intrust Bank in Lawrence, said she had concerns that blue collar workers were finding Lawrence too expensive.
"I think it is becoming a little tougher for them all the time," Jones said. "They just can't afford the home that they want. A lot of them want a new home and are finding that is out of their reach."
Buhler, though, said he wasn't so sure it was more difficult to buy a home in Lawrence than it was a decade ago.
"I know there is a segment out there that believes that, but I will tell you in the last decade lending policies have been relaxed," he said. "In the old days, if you didn't have a 20 percent down payment, you couldn't buy. Then it used to be 10 percent and then 5 percent and now there are loans out there that you don't have to have a down payment.
"I wouldn't say that fewer people have access to our market than they did years ago because lending practices have kept up with the changes in the market."
Hess said he wasn't sure the increase in prices shut the door on families looking to live in Lawrence. Besides, he said, the issue is a lot like talking about the weather -- it's an interesting subject, but there's not a lot to be done about it.
"I don't know what to do about it," Hess said. "The values are what they are, and they are what they are because that is what people are willing to pay for the quality of life in Lawrence."
Copyright 2018 The Lawrence Journal-World. All rights reserved. This material may not be published, broadcast, rewritten or redistributed. We strive to uphold our values for every story published.