When 24 Lawrence high school and junior high school students traveled to Hiratsuka, Japan, a couple of months ago, eating boiled soy milk with chopsticks and sweet sauce was just one of the many interesting experiences.
During the 10-day student exchange program, the students and their six chaperones -- Sue Hack, Al Hack, Jeff Harkin, Meghan Rahmeier, Nathan Rahmeier and Jacob Rahmeier -- enjoyed meeting Japanese children their own age, shopping and seeing the sites of Hiratsuka, Lawrence's sister city. The delegates learned about school, daily life and how a family operated in Hiratsuka. Most importantly, the delegates learned about the Hiratsuka culture.
On the third and fourth days of the trip, the delegates and chaperones went to the youth center to meet their host Japanese families. During the home-stay, the delegates did many different and exciting things. Some of the delegates went to the giant Buddha of Kamakura. Others visited an ancient castle of Japan. Meeting and living with a Japanese family for two days was the best part of the home-stays.
The day after the delegates returned from their individual home-stays they went to two different schools. Half of the delegates visited a junior high school, and the other half visited a high school. The delegates who visited the junior high school participated in an English class, a Japanese calligraphy class, as well as games and dancing in the gym. In the English class at the junior high, the delegates played a board game and a matching game.
After playing that game a couple of times the teacher collected the board and dice and handed out cards to a matching game. In the Japanese calligraphy class, students learned to write the Japanese symbols RI, WA, MA, HI and their names in Japanese with a paintbrush and black paint. The delegates then had lunch and then went to the gym to play games and dance.
On the eighth day of the trip, the students went rice planting. The rice planting was fun because its uniqueness to the far eastern countries. Before the rice planting, the delegates had to put on two-toed tabi shoes. The delegates stepped into the rice patty, and mud immediately came up to their shins.
Each year delegates will go to Hiratsuka, Japan. It is hard work to prepare for a trip like this, but it is worth it because once you get there it will be the best experience of your life.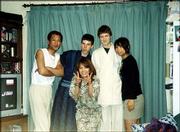 Copyright 2018 The Lawrence Journal-World. All rights reserved. This material may not be published, broadcast, rewritten or redistributed. We strive to uphold our values for every story published.