Elderly, trusting and with his mental abilities on the decline, 83-year-old Walter Puckett may as well have a bull's-eye painted on his back.
"It's a pool of piranhas," said his daughter Cynthia Davis. "The opportunists are circling like buzzards."
The "opportunists" have family members like Davis -- as well as social workers and law enforcers -- working to protect an aging population from being exploited financially, or, in some cases, being physically or mentally abused.
And while reported instances of abuse and neglect statewide have increased substantially in the past few years, the jump has been even bigger in the area that includes Lawrence and Douglas County.
Douglas County Dist. Atty. Christine Kenney said many factors had been coming together to make conditions ripe for increasing crime against the elderly.
"This is a generation that has been very conscientious in terms of saving, and very proud and independent," she said. "Unfortunately, they are very appealing targets to con artists."
A hidden problem
In Kansas, the number of investigations of alleged neglect and abuse of people 60 years old and older has increased 23 percent, from 2,512 in 1999 to 3,090 last year, according to the Kansas Department of Social and Rehabilitation Services.
In a seven-county area anchored by Douglas County, the number increased 35 percent, from 257 reports of elderly abuse in 1999 to 348 last year.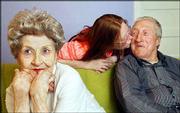 Lawrence-area SRS officials said they didn't know why the increase in the area was larger than across the state.
"I would hope the numbers have increased because there is an increase in awareness," said Mary Transue, social work supervisor at SRS' Lawrence adult protective services.
Nationally, reports of elderly abuse increased 150 percent from 1986 to 1996, reaching 450,000 incidents in 1998, according to a study by the U.S. Administration on Aging.
The study also concluded that up to five times as many cases weren't reported.
That's because most people don't recognize signs of abuse, and those being abused often stay silent.
"Sometimes the victim is embarrassed by it, or they are afraid their caretaker will be taken off to jail, and then they wonder who will be there to care for them," said Maren Turner, director of AARP Kansas. "People also don't know abuse when they see it, or they feel it's a family problem."
Advocates said awareness about abuse of the elderly these days equals awareness of spousal or child abuse 30 years ago.
If you suspect an elderly person is being abused, neglected or is suffering from self-neglect, here are some resources and numbers to call for help:¢ The Kansas Department of Social and Rehabilitation Services has a toll-free, adult abuse hot line at (800) 922-5330. The number is in operation from 8 a.m. to 5 p.m. Monday through Friday.¢ The local child and adult abuse hot line is (866) 215-9077. It operates from 8 a.m. to 5 p.m. weekdays.¢ Reports of abuse and neglect also can be reported to police at 832-7650.¢ Abuse of an older person in a nursing home or other long-term care facility can be reported to the Kansas Department on Aging, (800) 842-0078. These incidents also can be reported to the police.¢ Financial abuse can be reported to the consumer protection division of Kansas Attorney General's Office at (800) 432-2310. These incidents also can be reported to the police.Numerous agencies are available as resources for the elderly. They include:¢ Jayhawk Area Agency on Aging (covers Douglas, Jefferson and Shawnee counties), (800) 798-1366.¢ Douglas County Senior Services, 842-0543.¢ Douglas County Health Department's Project Lively, 843-3060.¢ Senior Care Services at Lawrence Memorial Hospital, 749-6289.¢ The Kansas Department of Aging Web site is www.agingkansas.org.Advocacy groups include:¢ Kansas Advocates for Better Care, (800) 525-1782.¢ AARP Kansas, (785) 232-4070.
And abuse through neglect, in cases where people can't take care of themselves, is increasing because of the lack of funding for home health care services, advocates say.
Caregivers need help
While the elderly often are victims of home repair and telemarketing fraud, officials say that in most cases, abuse is committed by a relative, usually an adult child or spouse.
"The majority of caregivers do it because of love," Turner said. "But sometimes without proper support, it can turn into an abusive situation. I think we are just seeing the tip of the iceberg when it comes to abuse and neglect."
She said that it was important for the community to provide help to caregivers.
"Caregivers need a respite," Turner said. "They need help and understanding about how to take care of a person, and they need financial support. If we had more of that in place, we'd see less abuse."
At least for financial abuse of the elderly, Kenney said, the increases could be stemmed with harsher penalties. It currently is a misdemeanor offense.
"That is something that we have to have the Legislature address," she said.
In recent months, Kansans, many of them elderly, have been put on alert to be wary of phony charities, con artists promising quick, inexpensive repairs after storms, and a scam where an operator informs an elderly person they've won the Australian lottery but first must pay certain fees and taxes.
Just last week, police in Kansas City, Kan., were searching for a couple who had persuaded an 81-year-old woman to empty her checking account of about $1,000 after they posed as police and told her the money was counterfeit.
In Lawrence, Timothy Harrell, 44, currently faces charges in connection with the November death of his father, 84-year-old Henry F. Harrell. The elder Harrell, who had been in his son's care, died of pneumonia and complications from infected bed sores. Prosecutors contend proper attention from Timothy Harrell could have prevented the father's death. They want the son convicted of second-degree murder.
Expanding reports
The Legislature passed into law a measure that expanded the list of people required to report suspected elderly abuse. The list now includes employees at financial institutions.
State Rep. Dean Newton, a Prairie Village Republican who helped craft the law, said bank employees often are the first to notice abuse of an elderly person, when the victim starts making large or frequent bank withdrawals.
"They can detect potential abuse early in the process and limit the financial damages done to the victim," Newton said.
Recently, Atty. Gen. Phill Kline and other state officials produced a videotape to instruct bank employees to look for signs of financial abuse. Kline also has put together a Vulnerable Adults Task Force that focuses on senior citizens.
In the Lawrence area and across the nation, law officers, prosecutors and social workers are coordinating efforts to stop abuse of the elderly more quickly.
But for Davis, help hasn't come yet.
"If I could, I would put him in a protective bubble," Davis said of her father. "But you just can't."
Davis said she spent a lot of time trying to untangle her father from several legal problems and protect him from what she said were a group of hooligans who know him as an easy mark. Her father owns a used car lot and has loaned vehicles out that have never been returned, Davis said.
Her father's father, Harry Puckett, was murdered in a robbery in 1983. Davis said she didn't want her father to meet the same end.
"I want people to know that he really is a sitting duck over there, so that maybe some other people can help me to watch over him," she said.
Copyright 2018 The Lawrence Journal-World. All rights reserved. This material may not be published, broadcast, rewritten or redistributed. We strive to uphold our values for every story published.