ROCHESTER, N.Y. — The PGA Championship is known as "Glory's Last Shot," and that's what it was Saturday for Tiger Woods.
Now it's the first big chance for Chad Campbell and Shaun Micheel.
The final major championship of the season is famous for producing winners who have never captured a Grand Slam event, so perhaps the way the third round at Oak Hill unfolded should have come as no surprise.
Campbell and Micheel both toiled longer than they care to remember in golf's minor leagues. Neither has won on the PGA Tour, or even contended in a major championship.
Twelve of the last 15 winners at the PGA Championship had never won a major.
"I can be one of those winners," Micheel said after giving up a big lead with bogeys on his final three holes for a 1-under 69.
Three guys who had never won a major already have captured the first three this year.
"I'm ready to win," Campbell said after his 35-foot birdie putt gave him a 5-under 65, the best score all week at Oak Hill.
And Woods?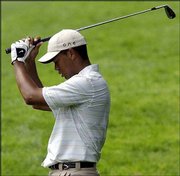 He'll have to wait seven months for his next shot at a major. He made an awkward exit, hitting tee shots all over for a 73 that left him 13 strokes behind and assuring himself of no majors for the first time in five years.
"I did it in '98," Woods said. "It won't be the last time."
Campbell and Micheel were at 4-under 206.
Masters champion Mike Weir had an even-par 70 and was three strokes behind, making him a dangerous challenger. He has won all six of his PGA Tour events -- including the Masters -- by starting the final round from behind.
"Maybe I'm like Seabiscuit," Weir said. "Have you seen that movie where he gets out in front and backs up a little bit so he can stare them in the eye? For whatever reason, I seem to do better from behind and catching up."
He's not trying to catch Secretariat or Man o' War.
Micheel is winless in 163 starts on the PGA Tour, and showed signs of cracking by missing the last three fairways after surging to a big lead.
Campbell is best known for his 13 wins on the Hooters Tour, although he is considered a rising star on the PGA Tour and is 13th on the money list with more than $1.8 million.
"I don't think either one of us has been in this position," Micheel said. "Just because people have never heard of me or Chad doesn't mean we can't play."
They showed everyone how on a steamy afternoon at Oak Hill, softened slightly by overnight rains that allowed for some low scoring.
Tim Clark of South Africa had a 68 and was at even-par 210.
Experience might still have a say.
Weir, tied for the lead early in the third round until Micheel ran off a string of birdies, rallied with two birdies on the back nine and saved par from the cabbage-like rough in front of the 18th green.
Ernie Els sputtered along the back nine until he finished with a 30-foot birdie putt down the slope on the 18th for a 70 that left him only five shots behind. Joining him at 1-over 211 were Briny Baird (67), Alex Cejka (68) and Billy Andrade (72).
"I feel like I'm leaving shots on the golf course," Els said. "If I can put something together, I can put pressure on the leaders."
Two-time major champion Vijay Singh also was within range, despite making a bogey on the 18th for a 70. Singh was at 212, along with Charles Howell III (70) and Fred Funk (70).
Phil Mickelson, who opened with a 66 for a share of the lead, hit another bad patch of bogeys in a round of 72. Still, he was in the picture at 3-over 213.
Depending on how Campbell and Micheel respond to the pressure, the lead might not be as large as it looks.
"Obviously, being in the last group of this tournament is a little bit different than any other tournament," Campbell said. "But I'm going to approach it the same way, and go out there and just keep playing the way I've been playing."
Woods' hopes of avoiding a Grand Slam shutout ended early Saturday, and it showed.
He didn't hit a fairway until the ninth hole, his shoulders sagging after each tee shot sailed toward the thick rough. He often walked 30 yards behind playing partner Jim Furyk; Woods usually walks briskly and confidently.
When he made his first birdie in 27 holes on No. 14, Woods raised both arms in mock triumph and bowed to the gallery.
"You're going to go years where you just don't win," he said.
He was tied for 43rd and headed for his highest finish ever in a major. His previous worst was a tie for 29th in the 1997 and 2001 PGA Championship.
Micheel is playing in only his third major -- his best was a tie for 40th in the 2001 U.S. Open -- and the nerves were evident when he pulled his opening tee shot in the left rough and made bogey.
Over the next 14 holes, he looked as though he had been through this routine before.
Facing a tough stretch, he stuck his approach shots close on Nos. 7 and 8 for birdies, then rolled in one from 30 feet on the ninth to reach 5 under par.
Even when he got in trouble -- the shot from a fairway bunker that sailed into a gallery -- Micheel managed to save par. Only after a tap-in birdie on the par-3 15th put him at 7-under did he start showing some cracks.
He missed the fairway on the final three holes, had to hack out and failed to convert 20-foot par putts, his lead dwindling until it was gone.
Campbell birdied three of his last four holes -- the exception was a bogey on No. 17 when he hit into the trees -- and wound up with a share of the lead.
"The two guys that are in the lead right now haven't won a tournament," Weir said. "We'll see how it pans out tomorrow."
Copyright 2018 The Associated Press. All rights reserved. This material may not be published, broadcast, rewritten or redistributed. We strive to uphold our values for every story published.