New York — TV networks successfully scrambled to keep programs on the air, while newspapers affected by the power outage managed to hit the streets Friday morning with smaller editions focused on the blackout.
At ABC News, concerns that backup power was insufficient at the "Good Morning America" studio in Times Square sent the broadcast uptown to Peter Jennings' "World News Tonight" set, where Diane Sawyer and Charles Gibson anchored a five-hour version of their morning show.
But there was more than blackout news on "Good Morning America." ABC had enough juice to air a live performance by singer Liz Phair from Bryant Park in midtown Manhattan.
Though Jennings was on vacation visiting Ottawa, one of the cities affected by the blackout, he phoned in reports to ABC News radio.
At NBC, power was restored at the "Today" studio -- which isn't served by backup generators -- a little more than an hour before "Today" was to sign on. But taking no chances, the network had Katie Couric and Lester Holt anchor the three-hour broadcast outside, in Rockefeller Plaza, using power from a satellite truck.
"Today" show executive producer Tom Touchet, on Long Island to get married today, rushed back to Manhattan to produce the broadcast.
The Detroit News printed an eight-page paper with no ads using plants in Battle Creek, Mich., two others in Ohio and one in Indianapolis. Editor-Publisher Mark Silverman said the paper was able to make its full press run of about 242,000 copies, together with the 369,000-circulation Free Press, which is run under a joint operating agreement with the News.
The Detroit News set up shop in a hotel in Howell, Mich., about an hour west of Detroit. Silverman said staffers put together pages in the makeshift newsroom and e-mailed them to the printing facilities.
"It was all we were able to do," Silverman said. "We invented the technology as we went along. ... You have the sense that it's an Election Night on steroids, except you don't know when it's going to end."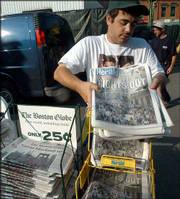 Copyright 2018 The Associated Press. All rights reserved. This material may not be published, broadcast, rewritten or redistributed. We strive to uphold our values for every story published.