If Student Body President Andy Knopp has his way, state lawmakers will forget about human sexuality courses and Jayhawks basketball tickets.
Knopp, a Manhattan senior majoring in business, has been traveling across the state meeting with legislators and telling them about the opportunities and challenges at KU, and how it's important the Legislature supports the school.
"We don't have a specific agenda. We're just trying to create more good will between KU and higher education and the Legislature," he said.
He said some lawmakers have only heard about the issues, such as last year's battle over KU's human sexuality course and the recent fight over Jayhawks tickets.
After a veto by Gov. Kathleen Sebelius of a provision aimed at de-funding KU's School of Social Welfare because of the school's human sexuality course, the Legislature approved a measure requiring schools to write specific guidelines for the course.
On the basketball court, KU has been under fire in some corners for requiring that some season ticketholders make high-dollar contributions to keep their prime seats.
"We're speaking to them (lawmakers) more about what it's like to be a student or teacher here, and about the tuition increases," Knopp said.
State officials approved a 20.7 percent tuition increase for this year on top of a 25 percent increase last year.
Both Knopp and Vice President Catherine Bell, a Coffeyville senior majoring in political science and communications, have put a lot on their plate.
They were elected last spring, but then there was the turnover of student government and then finals.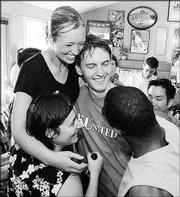 "Now, Andy and I are free to work on projects until the students get back. It has been a great experience," Bell said during the summer.
They are trying to advance construction of a Multicultural Resource Center, which has been approved to be built next to the Kansas Union. The team is looking for donors to build the $2.75 million building.
The center will focus on diversity, gender and sexual orientation issues.
Knopp and Bell have secured an on-campus shuttle for all students using a KU on Wheels bus.
They also are trying to establish an online system for students to communicate with advisers via e-mail or chat rooms.
Knopp also said they would push for putting online student evaluations of courses and instructors.
"With the rising tuition costs, we are paying for the only increases that our faculty are seeing, so it seems to me that students should be able to seek out the instructors who match their learning styles," he said.
Copyright 2018 The Lawrence Journal-World. All rights reserved. This material may not be published, broadcast, rewritten or redistributed. We strive to uphold our values for every story published.