Marie Clyatt found a little bit of home when she arrived at Kansas University.
That's because she went to live in Douthart Scholarship Hall. There, she lives with 47 other women, cooking, cleaning and helping each other out -- kind of like family.
There are lots of advantages to living in scholarship halls, Clyatt said.
"For me, I think it's the smaller environment," she said. "Having only 48 girls makes it a closer family. And scholarship halls are a better location than up on the hill -- you can walk to your classes a lot easier."
Clyatt, a senior majoring in psychology, is one of 485 students living in 10 scholarship halls at KU. They're less expensive than living in on-campus residence halls -- about $3,290 per year compared to as much as $4,822.
And Clyatt said students tended to stay in scholarship halls longer than they did in dormitories.
"Most people do a year or only a semester" in the residence halls, Clyatt said. "With the schol halls, we have people that, even if they stay in the hall for three years and move out, they come back and eat, or come to the hall dances."
But there is a price to be paid: work.
Each resident of a scholarship hall must work in that hall, cooking or cleaning. Each resident signs a contract, agreeing to work at least six hours a week in the hall, although Clyatt said fewer hours usually were required.
"You have one specific job you do during the week," she said. "You have another job you do on Sundays, and that's one Sunday a month."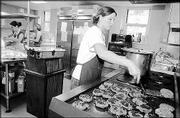 And the jobs can be a learning experience.
"I was a cook for a year," Clyatt said. "It was a lot of fun being able to help decide the meals. It was quite an experience cooking spaghetti for 50 people. That's a lot of noodles. It's more of a homey feeling than going to the cafeteria -- more like eating dinner with your family."
Having your own kitchen is also a benefit when late-night munchies hit.
"It's an open pantry," Clyatt said. "If it's 2 in the morning, you can go down to the kitchen and grab some food. It's more like living in your own house or apartment."
Students who apply to live in the scholarship halls are graded on several criteria:
Grade-point average (2.5 in high school, minimum), along with the SAT or ACT score.
Financial need.
Answers to three essay questions.
Two references.
According to KU, most halls offer small sleeping rooms adjoining a study room.
In Sellards, Douthart and Grace Pearson halls, suites consist of two bedrooms and a study room shared by four residents. At Battenfeld, four share a suite comprised of a study room and a connecting bedroom.
K.K. and Margaret Amini halls offer four-person suites with adjoining bathrooms. Rooms in Stephenson and Pearson are shared by two residents.
In Watkins and Miller halls, two to four residents share a study room and everyone sleeps in communal sleeping porches. All but Watkins and Miller have one large kitchen and dining area. Laundry machines are provided in each hall, along with one TV, stereo and piano.
Clyatt said living in a small scholarship hall made it easier for some students to manage life at a large university. Any drawbacks, she said, are outweighed by the merits.
"Like any place, living with 50 girls does get old after a while," she said. "There's not as much variety of people as you'll find in a residence hall, but I think you get to know people a lot better.
"It's mainly the community and the friendship that are built."
Copyright 2018 The Lawrence Journal-World. All rights reserved. This material may not be published, broadcast, rewritten or redistributed. We strive to uphold our values for every story published.