Pittsburgh — The Milwaukee Brewers and their racing sausages were beaten again by Randall Simon and the Pirates. Only this time, Simon did his damage on the bases rather than with his bat.
Milwaukee catcher Eddie Perez's two-base throwing error and Simon's alert base running set up Pittsburgh's three-run sixth inning and Matt Stairs hit a three-run homer, leading the Pirates past the Brewers 6-3 Friday night.
"Randall Simon never let up and we got a big inning out of it," Jack Wilson said.
It was a winning night all around for the Pirates, whose racing pierogies easily beat the sausages during a match race before the sixth inning. Simon, fined by baseball and local police for rapping one of the sausages with his bat last month in Milwaukee, was warming up on the field and did not watch.
In a wild twist, Brewers pitcher Matt Kinney hit Simon on the right forearm with a pitch shortly after play resumed following the race. Simon winced in pain but stayed in the game.
The inning before, Simon's observant base running play helped create the Pirates' go-ahead inning. Simon and Jose Hernandez singled to start the fifth against Kinney (7-9). Wilson, attempting to advance the runners, put down a bunt that traveled only a few feet up the first base line.
Wilson initially thought the ball would spin fair and stayed in the batter's box, only to start running just after Perez grabbed the ball as it touched the foul line chalk.
Perez tried to throw out Simon at third, but the ball deflected off third baseman Keith Ginter's glove and into left field, scoring Simon and advancing Hernandez to third and Wilson to second. Pinch-hitter Carlos Rivera's groundout scored Hernandez and Wilson came home on Jason Kendall's sacrifice fly.
"I was running the whole way, in case it comes back fair. I've seen that a lot this year -- the ball looks like it's going to go foul but it comes back," Simon said. "You always want to be aggressive. ... It set up a great inning for us."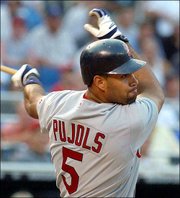 Phillies 7, Cardinals 4
Philadelphia -- Jim Thome and Ricky Ledee homered. Albert Pujols singled, doubled and tripled, extending his hitting streak to 29 games and Jim Edmonds hit his 30th homer. Vicente Padilla (11-8) allowed four runs and nine hits in five innings.
Expos 4, Giants 1
Montreal -- Livan Hernandez pitched his NL-leading sixth complete game as Jose Vidro and Brian Schneider homered. Hernandez (13-7) retired the last 19 batters he faced in throwing his fifth complete game in eight starts. It was his 29th career complete game.
Cubs 2, Dodgers 1
Chicago -- Mark Prior scattered seven hits in his third complete game. Sammy Sosa had three hits and drove in two runs as the Cubs won for the fifth time in six games. Prior (11-5) retired 18 of the first 21 he faced.
Mets 5, Rockies 0
New York -- Tom Glavine tossed six effective innings and the New York Mets received home runs from rookies Jose Reyes and Jason Phillips. Cliff Floyd hustled on his sore Achilles' tendon and scored twice. Ty Wigginton hit a pair of RBI doubles. Glavine (8-11) allowed only three hits but walked four and pitched out of trouble all night.
Braves 10, D-backs 4
Atlanta -- Vinny Castilla, Andruw Jones and Marcus Giles homered against Randy Johnson. Castilla hit a three-run homer in the second to put the Braves ahead. Johnson (3-5) has won the last four NL Cy Young awards, but he won't be extending his streak to five. and
Reds 9, Astros 7 (10)
Cincinnati -- Adam Dunn hit a two-run homer in the bottom of the 10th inning. Ryan Wagner (2-0) pitched the 10th.
Marlins 10, Padres 0
Miami -- Brad Penny pitched seven shutout innings, and Mike Lowell and rookie Miguel Cabrera homered. Penny (11-9) allowed five hits and struck out seven, and Lowell drove in three runs.
Copyright 2018 The Associated Press. All rights reserved. This material may not be published, broadcast, rewritten or redistributed. We strive to uphold our values for every story published.