Andy Knopp is among 200 or so students signed on for the Student Book Exchange.
And, in his book, everyone else is a sucker.
"It's something that can save students money," said Knopp, Kansas University's student body president. "You can save $150 to $200, just depending on how many books are available."
The service, organized and administered by KU's Student Senate, matches students looking to buy textbooks with students willing to sell them.
Students trade information online at www.ku.edu/~book, then agree to meet in person -- to transact business at a mutually beneficial price.
"It's essentially the same as any kind of an Amazon or an eBay," said Knopp, elected in the spring on a platform that included support for the fledgling service. "You can list a book by name, author or anything. You can also search for books based on the class number. You need a book for Business 476? You can look it up and find it. It'll match you up with a student who has listed that book for sale, and the asking price."
Most books sell at a price about midway between what a bookstore would pay to buy it back and what a bookstore would fetch from a buyer a semester later, he said.
Knopp, a Manhattan senior, once sold a textbook from his Investment Theory class for $45. KU Bookstores would have paid him $25, while the woman who eventually bought his text would have paid $65 at the store.
"We each made $20 on the deal," said Knopp, an accounting major. "It easily was worth it."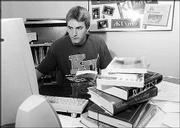 So far only about 200 to 300 KU students have taken advantage of the new system, which booted up on campus a couple of years ago. But Knopp fully expects that to change, as word gets out and efforts continue to make the system easier to use.
Knopp wants to team up with KU Bookstores to streamline exchanges between students, by tapping into the vast computer databases that track professors' book orders.
There might even come a day when students could line up book exchanges as soon as they confirm their class schedules, he said, with little more than one simple click of a computer mouse.
"It could be so simple," he said. "Right now, it's like anything else: No matter how beneficial it is to somebody, if it involves typing in the information yourself, you're less likely to use it."
If the bookstores, exchange service, enrollment office and professors all can get on the same page -- no small feat -- then Knopp figures the students wouldn't be the only winners.
The bookstores themselves would be helping students save money on low-margin book sales, he said, and thus free up cash to be spent on high-margin items such as KU sweatshirts, hats and other merchandise.
"I don't think we'll ever run a bookstore out of business, with the kind of system we're talking about," he said.
Bookstores in Lawrence offer online services, but none in the mold of the senate's exchange.
The Jayhawk Bookstore, 1420 Crescent Road, also takes preorders through its Web site, www.jayhawkbookstore.com.
Eight hundred to 900 students use the service each semester, said Ben Puntch, who works in the store's textbooks department. A preorder allows students to reserve books -- either new or used -- for the next semester without ever setting foot in the door.
"It's more convenient," he said. "You can just sit at home and order your books, and then just come in and pick up (and pay for) your box."
The story's much the same at University Book Shop, 1116 W. 23rd St., which takes online preorders at www.kubooks.com.
The store accepted 150 preorders last fall, up from 20 two years earlier, said Serita Drost, textbooks manager. The store markets its preorder process to incoming freshmen during campus orientations.
"It saves time -- especially when you'd be battling 100 people in the store at once," she said. "It gets kind of hectic."
KU Bookstores also takes orders through its Web site, www.kubookstore.com.
Copyright 2018 The Lawrence Journal-World. All rights reserved. This material may not be published, broadcast, rewritten or redistributed. We strive to uphold our values for every story published.