College football was living high in January: A thrilling championship game with no controversy about its participants capped a season full of excitement.
Then came the offseason.
Two prominent coaches lost their jobs -- Rick Neuheisel for gambling and Mike Price for allegedly partying with strippers.
Ohio State's title was called into doubt with questions about the academic eligibility of its star, Maurice Clarett, and then an NCAA investigation into his claim that he had thousands of dollars of stereo equipment stolen from a car.
Most importantly, civil war broke out when the ACC lured Miami and Virginia Tech away from the Big East, altering the balance of power in the sport and leaving one of the six major conferences fighting to maintain its prominence.
Finally, it's time for the games to begin.
"It's great to get a chance to talk football again," Miami coach Larry Coker said at his final Big East media day. "Once the games begin, all this fire and brimstone will wane a little bit."
The impact of last year's championship game and the offseason's chaos will be felt all season.
Hours after 31-24 double-overtime loss in the Fiesta Bowl to Ohio State, Miami's players were eager to eliminate the bitter taste from the game.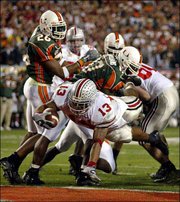 Every time they watched the tape, every time they practiced, almost everywhere they went, the Hurricanes couldn't help thinking about the missed opportunities that cost the Hurricanes a repeat championship.
"All those two-a-days, all those practices, all those seven-on-sevens, the team meetings, were for nothing, and we only had 2 yards to go," Miami tight end Kellen Winslow Jr. said.
Five turnovers, blown assignments, a bit of overconfidence and a questionable pass interference call helped Ohio State snap Miami's 34-game winning streak and give hope to many teams that they, too, have a title chance.
Heading into this season, teams are hoping to become this year's Buckeyes -- a team that came off a five-loss season to run the table and win the championship.
"How many people really did give Ohio State a chance last year?" North Carolina State coach Chuck Amato said. "You've got to dream about it, you've got to talk about it, so if it happens, we just don't faint."
This year's top contenders are missing some usual names. Nebraska, Florida State and Florida -- which together won at least a share of the national title every year but one from 1993-99 -- all are expected to begin the season outside the Top 10, or in the case of Nebraska and Florida, maybe outside the poll entirely.
"I've had to face the reality of losing games for the first time in a long time -- and I don't like it," Florida State coach Bobby Bowden said.
The ACC, once considered among the weaker major conferences, is in position to be among the toughest in the country once Big East powerhouses Miami and Virginia Tech join in 2004.
The Big East figures to have its best year yet in the what could be its final year as a major player. Miami, Virginia Tech and Pittsburgh will all compete for the conference title and figure to play a major role in deciding who plays in the Sugar Bowl in New Orleans, the site of this season's BCS national title game.
Clarett led the Buckeyes to the title as a freshman, but has found himself in constant trouble, making a repeat more difficult.
Clarett hasn't practiced so far because of investigations by the NCAA and the university.
"We're going about our business as we usually do, focusing on what we have to do out on the field," running back Lydell Ross said. "We have a stable of solid running backs. We're all here to play and to contribute."
There are plenty of teams poised to dethrone the Buckeyes, including Oklahoma, Miami, Texas, Kansas State, Michigan, Southern California and Virginia Tech.
There will be 18 new coaches in Division I-A. None will receive as much scrutiny as Mike Shula at Alabama.
Shula took over in May from Price, who was fired without coaching a game for the Crimson Tide after reports that he spent hundreds of dollars at a Pensacola, Fla., topless bar and that a woman ordered about $1,000 in food and charged it to his hotel bill the next morning.
The passionate 'Bama fans, still stung by coach Dennis Franchione's defection to Texas A&M; in December and a bowl ban, will be patient with Shula, unless the losses start piling up.
"I'm going to work as hard as I can to get this team ready to play," Shula said. "We're at Alabama. We should go out and take the field thinking we can win every week. If we don't, we shouldn't be here."
The other coaching change came at Washington, where Keith Gilbertson took over in June when Neuheisel was fired.
Gilbertson has more talent to work with in quarterback Cody Pickett and receiver Reggie Williams and a more patient fan base, which should ease the transition.
But he doesn't get help from the schedule makers, who send him to Columbus, Ohio, for his opener against Ohio State.
"If there's anybody to replace coach Neuheisel, it would have to be coach Gilbertson," Pickett said. "We're going forward. It's a situation we have no control over."
Copyright 2018 The Associated Press. All rights reserved. This material may not be published, broadcast, rewritten or redistributed. We strive to uphold our values for every story published.