Kansas City, Mo — Kenny Rogers used experience to mystify the Kansas City Royals.
The 15-year veteran limited the Royals to two singles and an unearned run in eight innings during Minnesota's 9-2 victory over Kansas City Friday night.
"The guy really knows what he's doing," Royals outfielder Raul Ibanez said. "Speed and velocity are overrated. He changed speeds on his fastball, gave you different looks, moved the ball around. He did a good job. He's a good pitcher. We have no excuses."
Keeping the Royals off balance with breaking pitches and offspeed stuff, Rogers (10-6) was perfect through 41/3 innings before Joe Randa reached on third baseman Corey Koskie's throwing error.
The next batter, Mendy Lopez, dropped an RBI single into left-center. The only other hit the Royals managed off the 38-year-old Rogers, making his 328th start and 613th overall appearance, was Angel Berroa's single into left with one out in the sixth.
"I tried to keep pitching and not get into a throwing mode," said Rogers, who walked one and struck out seven and reached the 10-win plateau for the 11th time in his career.
"There are days it's going to be there and there are days it's not going to be there. Today I felt pretty comfortable. I think I could have a little better sinker."
J.C. Romero pitched the ninth for the Twins and surrendered an RBI single to Lopez.
It was Rogers' best game since Aug. 9, 2002 when he went eight innings and allowed just two hits and two earned runs against Cleveland.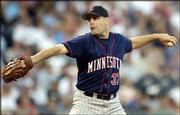 "The last few starts, I've just tried to back up and pitch and hit my spots and be the guy I can be every time," Rogers said. "It was nice to get a big lead against a quality ballclub."
Left-hander Jimmy Gobble (2-1), bidding to become the third rookie in team history to start his career 3-0, kept Minnesota scoreless through 22/3 innings but then the Twins sent eight men to the plate and took a 5-0 lead.
"I think he was overthrowing tonight," manger Tony Pena said. "He was a little off. It's OK. It's understandable. He came out fighting."
Koskie and Jacque Jones each had three hits for the Twins, who have outscored the Royals 77-64 this year despite losing eight of 13 to their division rivals. Koskie had an RBI double and Jones hit an RBI single in the third before Hunter connected on a 1-0 pitch for his 22nd home run to put the Twins on top 5-0. The victory brought the Twins to within three games of front-running Royals in the AL Central.
"We knew how important this game was to us," manager Ron Gardenhire said.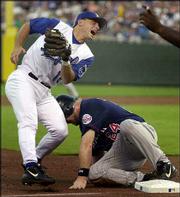 Gobble went three innings and allowed five runs on eight hits, with one walk and one strikeout.
Matt LeCroy singled off Paul Abbott to open the Twins' fifth and went to third on Jones' double. With two outs and the bases loaded, No. 9 hitter Cristian Guzman hit a two-run double into center. When center fielder Desi Relaford's throw to third sailed into the Minnesota dugout for an error, Dustan Mohr scored to make it 8-0.
Luis Rivas led off the Minnesota sixth with a home run. Nine of the 16 homers Rivas has hit in his three-year career have come against Kansas City.
Notes: The two home runs give Minnesota 23 since the All-Star break, second lowest in the league only to Anaheim ... RHP James Baldwin cleared waivers and was outrighted by the Twins to Triple-A Rochester. He has 72 hours from Thursday to accept or decline the assignment. RHP Grant Balfour was recalled from Rochester. ... Twins 1B Doug Mientkiewicz was held out a second straight day with a sore wrist. ... Gobble's ERA soared from 0.73 to 3.52 in his third major league start.
Copyright 2018 The Associated Press. All rights reserved. This material may not be published, broadcast, rewritten or redistributed. We strive to uphold our values for every story published.