Dallas — Once again, everyone in the Big 12 is trying to keep up with the Oklahoma Sooners.
Since winning the national championship in 2000, the Sooners have been tapped as the team to beat each preseason. They lived up to the hype both seasons, finishing sixth and fifth in the final polls.
This fall, the Big 12 South might have its strongest collection of teams in the league's eight-year history, with Texas, Texas A&M; and Oklahoma State having legitimate chances of playing spoiler. Should the Sooners make it to the title game in Kansas City's Arrowhead Stadium, they'll likely face the North's lone dominant team, Kansas State.
But a lot of things can happen between now and then. So, here's a list of 12 big questions that will be answered before the Big 12 championship game Dec. 6:
1) Does it matter what OU does on offense considering its defense might fare well in the NFL?
The MVP of the Sooners' defense likely will be named the nation's top defender. That's how good the unit is.
Oklahoma gave up less than two touchdowns per game last season, and had six games of allowing one or none. So it's not like the offense has to do all that much.
Quarterback Jason White jokes that he's run out of knees to blow out, so presuming the rest of him remains intact the Sooners should be able to move the ball. Kejuan Jones has a small pair of big shoes to fill in replacing 5-foot-7 running back Quentin Griffin, but the 5-9 sophomore showed promise last season.
2) Can receiver Roy Williams and running back Cedric Benson become the big-game heroes Texas has been missing?
The Longhorns have lost three straight to Oklahoma and Chris Simms no longer is around to be blamed for losing the big ones. Someone will have to step up if coach Mack Brown finally is going to win the first conference title of his career.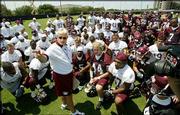 Williams could've been a top-10 draft pick. Benson is coming off a 1,293-yard season. Both will be needed to ease the load on new quarterback Chance Mock or his highly regarded backup Vince Young.
3) Is this the year K-State finally wins the conference title?
QB Ell Roberson and RB Darren Sproles give Kansas State one of the most exciting backfield tandems in the country. Their highlights should replace those lost when CB-KR Terence Newman went to the NFL.
The Wildcats, who closed last season with six straight wins, could play up to 15 games this season. Their conference opener Oct. 4 at Texas looms as the biggest test. For the second straight season, they don't play Oklahoma -- unless it's for the league championship.
4) How quickly can Dennis Franchione get Texas A&M; back on track?
By installing a new offense and revamping the school's longtime defense, Franchione isn't taking things slowly. Then again, his turnaround tactics have been wildly successful elsewhere, so there's no reason to bet against him.
How the Aggies respond in September games at Virginia Tech and against Pittsburgh will be an indication of how things go in October and November.
5) If Oklahoma State beats Oklahoma again, can it really be called a surprise?
After knocking off their more heralded state rival two straight years, the Cowboys will try not to strut onto the field when they meet again Nov. 1. Then again, they'll have to get past Nebraska, Kansas State and A&M; to make the battle of Oklahoma really meaningful.
Receiver Rashaun Woods is among the best in the country, which could help quarterback Josh Fields break the school passing record he set last season. And if defenses key on that tandem, they could get hurt by running back Tatum Bell.
6) Can Colorado become the first Big 12 team to win its division three straight years?
It doesn't seem likely.
Thin at quarterback and having lost star running back Chris Brown to the NFL, coach Gary Barnett would have to do one of his patented out-of-nowhere acts to do so. The defense is solid, though, and a tough early season schedule could end up building momentum if they can pull off some upsets.
7) Does anyone still fear Nebraska?
After playing for the national championship after the 2001 season, the Cornhuskers went 7-7 last fall and had a losing record (3-5) in the conference. The aura is gone.
So is Craig Bohl, who coordinated the Blackshirt defense. And head coach Frank Solich finally gave up his dual role as offensive coordinator. Nebraska needs big improvement on both sides of the ball to again be considered a Big Red Machine.
8) How much better will Missouri's Brad Smith be as a sophomore?
As a redshirt freshman, Smith became only the second quarterback in Division I-A history to throw for 2,000 yards and run for 1,000. His numbers would've been even better if he got to play the Tigers' defense; they allowed an 450.3 yards per game, or 63.5 more than the Smith-led Mizzou offense gained.
Road games against Oklahoma, Colorado and Kansas State will be a challenge for a team trying to end a five-year bowl drought.
9) Any chance B.J. Symons can do for Texas Tech's short passing game what Kliff Kingsbury did?
Critics who said Kingsbury's record numbers were a product of coach Mike Leach's system will find out with the Symons taking over after being a backup for three years.
Keep an eye on Wes Welker, who could be the best 5-foot-9 utility player in the country.
10) What will the Iowa State offense look like without Seneca Wallace running it?
The Cyclones have gone from star running back Troy Davis to Darren Davis to Ennis Haywood to Wallace, a sensational passing-running quarterback. Now, with no standout-in-waiting in the backfield, ISU will try reversing a skid of six losses in their final seven games last season.
Good thing the defense is expected to be strong.
11) When will second-year Kansas coach Mark Mangino win his first conference game?
The best bet is Oct. 18 at home against Baylor. A 35-32 loss to the Bears in Waco last season started a seven-game losing streak the Jayhawks are carrying into this season.
12) How long until new Baylor coach Guy Morriss starts wondering whether it was worth the money to leave Kentucky?
Morriss went from two wins his first year as a college coach to seven last season, earning him a seven-figure deal to return to his home state.
Baylor predecessor Kevin Steele also won nine games over his tenure. It just took him four years to do it.
Copyright 2018 The Associated Press. All rights reserved. This material may not be published, broadcast, rewritten or redistributed. We strive to uphold our values for every story published.