Faking it can get you into big trouble.
Yet too many Kansas University students and others seem willing to take risks by obtaining or making false identification so they can drink alcohol, local and state law enforcement officials say.
Lawrence Police can usually tell right away who the fakers are when they walk in to check a bar, Lt. David Cobb said.
"You'll see a group of people at a table who aren't touching their drinks," Cobb said. "Or suddenly there will be a rush of people heading to the bathroom."
The legal drinking age for any alcoholic beverages or liquor in Kansas is 21. That supposedly eliminates several thousand KU students from being able to buy alcohol or go to bars.
The law opens a market for false identifications for those willing to take the risk.
Making false identification such as a driver's license is a felony. A conviction could mean a prison sentence from five months to 13 months in a state prison. Offenders could receive probation, however, if they don't have prior convictions.
Unlawful use of a fake driver's license is a misdemeanor. A conviction could get someone up to a year in the county jail.
Computer and scanner technology has made it easier to make fake driver's licenses and other identifications in recent years, Cobb said. Many bars now require a patron to show more than one type of identification before they are admitted. Some bars also have scanners that can detect whether a license is legitimate by checking certain markings.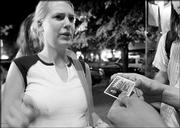 When Kansas raised the drinking age a few years ago from 18 to 21, that set into motion other changes. Beer and other alcoholic beverages were at one time allowed in some residential halls. No more. No matter the age, buying or selling alcohol isn't allowed on campus.
There are exceptions. The chancellor can designate a specific site to allow alcohol for certain social functions. And during football season alcohol can be consumed in designated tailgating areas outside of Memorial Stadium. No alcohol is sold or allowed inside the stadium.
Officers with the KU Public Safety Department as well as agents from the Kansas Department of Revenue's Alcohol Beverage Control office closely watch tailgaters to make sure everybody follows the rules.
"We do have compliance but we do give warnings," KU Police Lt. Schuyler Bailey said. "There are arrests made by us and occasionally ABC will make an arrest. But we haven't had any major problems."
Arrests are made at the officer's discretion, Bailey said.
"If we find a minor in possession there are no warnings given, and an arrest is made," Bailey said.
In 2002 there was only one arrest on campus for public drunkenness, KU records showed. There were two arrests for liquor law violations and two arrests for driving while intoxicated.
Consuming or possessing alcohol on campus is a misdemeanor, but could result in a maximum penalty for first offenders that includes six months in jail and a $500 fine. The offender also might have to go through an alcohol education program and have their driver's license suspended for 30 days.
A third conviction is a felony and could result in a year in a state prison and $2,500 fine as well as other penalties.
It also is illegal to drive while intoxicated. The state considers someone legally drunk if their breath or blood alcohol content measures .08 or more.
Copyright 2018 The Lawrence Journal-World. All rights reserved. This material may not be published, broadcast, rewritten or redistributed. We strive to uphold our values for every story published.