New York — The lights were bright on Broadway and everywhere else in New York Friday night after engineers grappling with the biggest blackout in U.S. history got the power back on.
It took them 28 hours and 52 minutes -- capping the longest blackout the city has ever seen.
"We are 100 percent back," declared Con Ed spokeswoman Joy Faber.
But there were scattered outages across the Northeast, more than a day after the blackout that left 50 million people in the dark.
By 9:03 p.m. EDT, every New Yorker was able to turn on lights, switch on air conditioners and take a much-needed shower.
The Mets returned to the diamond at Shea Stadium, and the city hummed with the din of elevators, televisions, computers and other appliances coming back to life.
The subways still weren't moving, but officials expected them to start running today.
Mayor Michael Bloomberg said New Yorkers should be proud of the calm way they reacted to the latest calamity -- an ordeal that was made worse by temperatures that topped 90 degrees for the second straight day.
"The fact that virtually everybody got along, that there was virtually no crime, virtually no accidents, it really should give you a great reason to feel good about life and feel good about New York," Bloomberg said.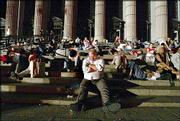 The power outage made life tough for millions in the city but claimed three lives -- including a boy who was killed during one of dozens of blazes that kept firefighters busy. Most were sparked by candles people used to stave off the darkness.
Emergency Medical Service workers made a record 5,000 emergency calls -- most heat-related -- and 800 people had to be rescued from elevators. During the ordeal, doctors delivered more than 90 babies in the city.
And while more than 200 people were arrested for looting, that was a far cry from the mass mayhem and rioting that accompanied the 25-hour 1977 blackout.
While the sudden power outage at 4:11 p.m. Thursday sent a fright into a city that's still recovering from the twin towers terror attack, officials quickly determined that terrorists had nothing to do with the blackout.
Michael A. Frick, an employee of Strand bookstore in lower Manhattan, was shrink-wrapping books using a machine he likened to "Medusa's hair dryer" when the power went out.
"I thought, 'Now I've done it. I've pulled too much amperage from this machine,'" Frick said.
After his manager closed the store, he walked across the Williamsburgh Bridge to his home in the Bushwick neighborhood of Brooklyn. He and his wife spent the night drinking beer and eating barbecued chicken at a neighborhood natural-foods grocery, whose owners wanted to get rid of their perishables.
Many workers took Bloomberg's advice to take a "snow day" Friday and stay home, but hundreds of others showed up at their jobs -- some marching across the bridges by foot -- only to find the doors to their buildings barred.
"I saw lights in downtown Brooklyn, so I thought there were lights here," said Max Zoumari, 31, who spent an hour traveling from Flatbush to get to his job at a law firm.
-- Journal-World staff writer Eric Weslander contributed to this story.
Copyright 2018 The Lawrence Journal-World. All rights reserved. This material may not be published, broadcast, rewritten or redistributed. We strive to uphold our values for every story published.