ROCHESTER, N.Y. — Any other year, it would seem odd to find Shaun Micheel's name atop the leaderboard halfway through the PGA Championship.
He's never won in 163 tries on the PGA Tour.
He'd played only two majors, missing both cuts.
Before Friday, the most attention he ever had at a golf tournament was stripping to his boxers to rescue an elderly couple from a car that plunged into a river in North Carolina.
But after what British Open champion Ben Curtis -- and Tiger Woods -- have done in the majors this year, there is no such thing as a surprise.
"Players rate their careers on how many (majors) they've won," Micheel said. "Heck, I've only played in three."
It didn't look that way at Oak Hill, where Micheel birdied four of the last five holes in increasingly tough conditions for a 2-under 68 and a two-stroke lead over Masters champion Mike Weir and Billy Andrade.
Micheel, 34, was at 3-under 137 and still has two rounds left on what is shaping up as the toughest PGA Championship course in 23 years.
"I'd love to add my name to the list on the Wanamaker Trophy," he said. "But that's getting a little ahead. I haven't proven myself as a tour winner this year. What's held me back, I don't know."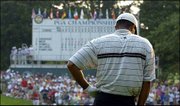 It didn't stop Curtis, who won a claret jug in the first major he played.
Still, Micheel is only halfway home, and has plenty of proven players right behind, from Ernie Els to Phil Mickelson to Vijay Singh. Woods isn't among them -- at least not yet.
Trying to avoid a Grand Slam shutout for the first time in five years, Woods bogeyed two of the final three holes for a 72 that left him nine strokes out of the lead, then he left Oak Hill without speaking to reporters for the second straight day.
It was the third time this year Woods shot over par in the first two rounds of a major. In the previous six years, he had done that only five times.
Weir was leading by two strokes until he made bogey on the final two holes for a 71. Joining him at 1-under 139 was Andrade, who overcame four bogeys in a five-hole stretch and shot 72.
No one else was under par at Oak Hill, which lived up to its reputation as one of the toughest tests in the U.S. majors.
"This will be a survival test to the end," Fred Funk said.
It was the highest 36-hole lead in relation to par in the PGA Championship since it last paid a visit to Oak Hill in 1980. The cut was at 8 over, also the highest for a PGA event since it was 9 over par that same year.
None of that seemed to faze Micheel, who holed a 25-foot birdie putt on No. 8 and finished his memorable day with a 7-iron into 8 feet on his final hole.
"I hit some nice shots and made some nice putts coming in," he said.
Woods could hardly say the same.
Unable to control his short irons, Woods' wedge into the 482-yard closing hole went long into the gnarly rough, and he looked away in disbelief. No sooner was his chip in the air than Woods flung his club at the bag.
He's made only two birdies in 36 holes.
Mickelson had two double bogeys in a round of 75, dropping him four shots out of the lead. Still, he was well within range of a major that has eluded him the last 10 years.
"That's kind of a 'glass half-empty, glass half-full' question, and I'm going to go with half-full," Mickelson said. "I'm a couple of shots off the lead heading into the weekend, and I feel like I'm playing pretty well."
Twelve of the last 15 players to win the PGA Championship had never won a major, and any number of players fit that mold going into the weekend.
Rod Pampling of Australia, who shared the first-round lead with Mickelson, had two double bogeys on his first five holes. Unlike the 1999 British Open, when he went from a first-round lead to missing the cut, the former greenskeeper recovered.
He took two shots to get out of a fairway bunker on the 18th, then holed out from 144 yards for par to shoot 74 and reach even-par 140.
Along with Mickelson, the group at 1-over 141 included three-time major winner Els, despite a double bogey by the Big Easy on his final hole.
"I really wanted to get to red numbers by the end of the day, and I almost did that," Els said after a 69. "I have two rounds to go, and I'm here for the weekend. I have a chance."
He and everyone else.
Five others were at 141, none of them major winners. The half-dozen guys at 142 included Singh and two-time U.S. Open champion Lee Janzen, who knows a tough golf course when he plays one.
"Generally, the PGA doesn't have as much rough as the U.S. Open," Janzen said after a 4-over 74. "Generally, it takes maybe 10 to 12 under par to win. But this is fine. If you're playing well, you want it to be as tough as possible."
It was every bit of that for Woods.
His two-day total of 146 might be even worse if not for several good par saves, none bigger than a 25-footer on No. 8.
Woods has never won a major when trailing by more than five after any round.
"You know that you just have to be very patient, and that if you can somehow get back to near par, you'll have a chance of winning the tournament," Woods said through a PGA Tour media official.
Mickelson made two double bogeys in a span of three holes, both times finding water. Only when he finished nine holes did Lefty realize this wasn't a user-friendly PGA Championship.
"I didn't think it was going to play anywhere near this difficult until after about nine holes today," he said. "Then, I realized that par was going to be a pretty good score."
Weir chipped in twice for birdie and was leading by two shots until momentum switched to Micheel at the end.
Weir missed a 6-foot par putt on No. 8, then twice hit into the rough on No. 9 and had to save bogey from 60 yards.
"Not the finish I was looking for, but that's this golf course," Weir said. "You miss a shot a little bit offline, it's going to bite you."
Copyright 2018 The Associated Press. All rights reserved. This material may not be published, broadcast, rewritten or redistributed. We strive to uphold our values for every story published.