Spending $80,000 in college scholarship money will be a pleasure for Kansas University graduate Mark Bradshaw.
He'll go to Great Britain for a couple of years to pick up graduate degrees in city planning and environmental regulation. That will be followed by a few years of law school back in the states.
"Two graduate degrees ... will give me sort of a technical background," said Bradshaw, the first KU student to earn Marshall, Truman and Udall scholarships. "Law school will concentrate on environmental law."
The stunning financial windfall means the table is set for this wheat-and-cattle rancher's son from southeast Kansas to fulfill his dream of working as an environmental activist.
It's a goal he's had since flipping through National Geographic magazines as a child.
"I want to change the face of environmentalism," he said.
Bradshaw's academic future is sweeter given that it all was put on hold after graduating from KU in 2001. He was diagnosed with sarcoma, a soft-tissue form of cancer. He moved to Wichita to be closer to family for treatment.
His left leg was amputated, but he described his health now as "good."
Cancer isn't a subject the 25-year-old Bradshaw likes to dwell on. It was scary and upsetting, he said, but he prefers to think about unlimited academic and career opportunities instead of limits imposed by an illness.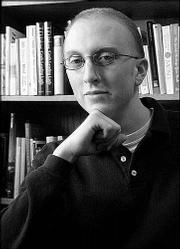 Bradshaw, who works at a Wichita bookstore, said he was focused on preparations for enrolling at the London School of Economics and Political Science.
He'll put to use $50,000 from the Marshall Scholarship.
In addition to learning the customary aspects to taking tea in the UK, Bradshaw will seek two master's degrees. He'll go through a one-year program in city planning before tackling a one-year program in environmental regulation.
"They're building blocks," he said.
In 2005, Bradshaw plans to return to the United States to enroll in law school.
That's when his $30,000 Truman Scholarship will come in handy. He's undecided on a school, but prefers to go to one with an emphasis on environmental law.
After five more years of school, the KU graduate in American studies expects to be ready for the job front.
His goal is to combine an interest in public policy affecting agriculture and the natural environment with an interest in getting more people involved in community gardens and community-supported agriculture.
"I'm most interested in public lands," Bradshaw said. "We've talked a lot about national parks the past century."
It's time to kindle interest in use of public lands for community garden programs, he said. That type of work would reflect his experience as an undergraduate student at KU, where he helped start GROW. It was a joint community gardening project with children involved in the Boys and Girls Club of Lawrence.
"It's a good way to educate them about environmental protection," he said.
Not all folks living in rural America -- even around his hometown of Walnut -- are supporters of environmental activists. Taking advice from a British-educated, law school graduate might be hard to swallow.
But his parents understand where he's coming from.
"They can see that it's something that can be positive," he said.
Copyright 2018 The Lawrence Journal-World. All rights reserved. This material may not be published, broadcast, rewritten or redistributed. We strive to uphold our values for every story published.