The festivities are over, the celebrities have left town.
Now it's time to get down to business at the Dole Institute of Politics.
The institute, which was established in 1997 to house former Sen. Bob Dole's papers, finally has a permanent home -- a 28,000-square-foot building on Kansas University's west campus that was dedicated with much fanfare in July.
"With the opening of the building, the first phase will come to a close," said Burdett Loomis, KU professor of political science who served as the institute's interim director from 1997 to 2001. "The question is, what do you do to take the next step? Where do we go from here?"
Richard Norton Smith, the institute's director, said the next step is to develop the academic component and public programming of the institute.
"That's going to require a long-term commitment by the university and by the Endowment Association," Smith said.
He said the Dole Institute's endowment fund for programming needs to be at least $20 million for it to function properly. The Endowment Association has raised $4 million for programming needs, a portion of which will be paid annually.
KU Chancellor Robert Hemenway has said he thought a good target would be $25 million.
A $25 million endowment would provide about $1.25 million a year for the institute.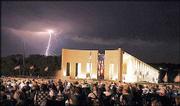 The institute received a high-profile kickoff this summer, when the building was dedicated on July 22, Dole's 80th birthday.
The building has two beams from the World Trade Center, Dole's army uniform, the world's largest stained glass American flag and a replica of the U.S. Capitol dome.
The guest list included former President Jimmy Carter; former senators George McGovern, Howard Baker and Nancy Kassebaum Baker; senators John McCain, Bob Bennett, Elizabeth Dole, Sam Brownback and Pat Roberts; NBC news anchor Tom Brokaw; and former New York City Mayor Rudolph Giuliani.
Most of the events surrounded World War II veterans, whom Brokaw dubbed "The Greatest Generation" in his book by the same title.
The building itself can be a source of pride for the university, Hemenway said.
"You stand inside that building, with the stained glass flag, and your heart starts beating a little harder," he said. "I'm proud the University of Kansas can be a vehicle for that kind of inspiration."
Programs
Smith has said the Dole Institute was unusual in that it started its public programming before its academic component.
In November 2002, the institute kicked off its Presidential Lecture Series, when historians Michael Beschloss, David McCullough and Edmund Morris spoke at the Lied Center.
This fall, two Pulitzer Prize-winning authors and a former presidential adviser will speak at KU. The line-up is:
Nov. 2, Robert Caro, who is best known for his biography series on Lyndon Johnson. He won a Pulitzer for "Master of the Senate," part of the series, and for "The Power Broker: Robert Moses and the Fall of New York."
Nov. 9, Roger Wilkins, who is a faculty member at George Mason University and shared a 1972 Pulitzer Prize for editorials he wrote for the Washington Post.
Nov. 16, David Gergen, who was a White House adviser under presidents Nixon, Ford, Reagan and Clinton.
"It's a good sophomore season," Smith said. "It will be a strong sequel to last year."
Smith also has started an oral history project on Kansas politics. Archivists are sorting through the 4,000 boxes of papers from Dole's political career. And Smith is hoping to find ways students can benefit from the archives and programs planned at the institute.
Smith said he plans to stay at KU to complete the initial phases of the institute.
"I have no plans to do otherwise," he said. "My plans are really going to be determined by the level at which the university and Endowment Association commit themselves to securing the institute's long-term future. I plan on being here and holding people to those commitments."
Copyright 2018 The Lawrence Journal-World. All rights reserved. This material may not be published, broadcast, rewritten or redistributed. We strive to uphold our values for every story published.