Some are elated, some are aghast and still others are just bewildered.
But few Episcopalians have been left completely unaffected by the precedent-setting decisions made by the Episcopal General Convention in Minneapolis. At that meeting, the Rev. Gene Robinson of New Hampshire was confirmed as the first openly gay bishop in the denomination's history, and the group recognized and gave a qualified affirmation of same-sex blessing ceremonies.
Count Jolinda Matthews, administrative assistant at Ecumenical Christian Ministry, 1204 Oread Ave., among those who are elated.
"It's my experience that the rest of the world is just waiting for this -- the inclusion of gays and lesbians into the community and same-sex unions -- to happen. I think they'll follow our lead," said Matthews, who attended the General Convention and sat in on the confirmation hearings for Robinson.
"The same thing happened when we began ordaining women in the United States. Now there are women being ordained throughout the Anglican Communion. The Communion was actually strengthened by the gift of women."
Matthews, adult sponsor for the youth presence from the Topeka-based Episcopal Diocese of Kansas at the convention, is one of the six-member Episcopal delegation to the National Council of Churches.
"I'm excited and proud of what we've done. If it (a split in the Episcopal Church) happens, we'll just have to deal with it. Our church came out, and that's so exciting. In so many ways, it's going to be a big relief for our church."
The Episcopal Church, USA, with 2.3 million members, is the American branch or province of the 77 million-member worldwide Anglican Communion.
Refocus on primary mission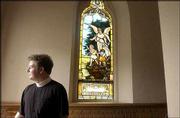 Clergy and leaders of the Episcopal Church in the Lawrence area recently shared their reactions to the General Convention's momentous decisions in Minneapolis.
The Rev. Darrel Proffitt, pastor of St. Margaret's Episcopal Church, 5700 W. Sixth St., believed the decisions on Robinson and same-sex unions that emerged from the assembly would have little impact on his parishioners.
"What happens in New Hampshire or Minneapolis does not have an effect on what we do at St. Margaret's," Proffitt said, explaining that the Episcopal Church has moved away from having a central, unified position on many issues, giving the denomination more of a church-by-church character.
"One of the things that these policies and elections do is make us more and more congregational. It disconnects us from the larger Episcopal Church," he said.
Decisions like those made at the General Convention dealing with issues of sexuality could prove to be a costly distraction for the church as a whole, or for individual parishes.
Proffitt doesn't want to let that happen in his church.
"There's a downside of any election or policy at the national level. If we allow it, it distracts us from our basic mission: to reach the world for Jesus. We will not allow that to happen to us at St. Margaret's. We're not caught up and embroiled in the politics. We are focusing on our mission, our vision and our values," he said.
The Rev. Jonathon Jensen of Trinity Episcopal Church, 1011 Vt., has written a reflection on the General Convention's recent decisions and made it available to parishioners at worship services. It's posted online at www.trinitylawrence.org. Jensen encourages church members to see
a "third side" -- neither for nor against -- Robinson's confirmation and a qualified affirmation of same-sex blessings.
"Many in the Episcopal Church, and no doubt other mainline Christian churches, just want to move beyond debating issues of sexuality, important as they may be, that have consumed an inordinate amount of time and energy removing the focus from where it ought to be: Sharing the love and message of Christ and serving God and our neighbor," he writes.
"For whatever else good or ill will come of it, God willing, the church may finally have the opportunity to refocus itself on its primary mission."
Foreseeing consequences
Bishop William Smalley of the Episcopal Diocese of Kansas was among those in the House of Bishops who voted to confirm Robinson's election.
"I did support it. He is a longtime friend. But quite apart from that, I just saw no reason whatsoever why the church could not support this. The (New Hampshire) election was run correctly back in his diocese. There really was no canonical reason why we could not do this," said Smalley.
He explained the meaning of the decision by convention delegates to recognize same-sex unions in some fashion.
"What they really said was an affirmation of the status quo regarding same-sex blessings. There are some dioceses that do this and some that don't. I think they simply affirmed the status quo," said Smalley, who has served as bishop for 14 years.
It's up to each Episcopal diocese to determine whether or not to authorize a bishop to allow same-sex blessings to occur in the diocese.
In June 2002, Smalley authorized clergy and churches in his diocese to perform blessings that recognize -- with stipulations -- certain unions outside of heterosexual marriage.
It's too early to foresee the exact consequences of the General Convention's decisions, according to the Rev. Joe Alford, chaplain of Canterbury House, 1116 La., the Episcopal Church ministry at Kansas University.
"I just really don't know. I thought it (a schism in the Anglican Communion) was going to happen a couple of times before, over women's ordination and the (adoption of a new) prayer book in 1976. People did leave, there were groups that split off. We'll just have to wait and see," he said.
Copyright 2018 The Lawrence Journal-World. All rights reserved. This material may not be published, broadcast, rewritten or redistributed. We strive to uphold our values for every story published.