DETROIT — The massive power outage that left more than 2 million people in the dark here Thursday night loosened its grip only slightly Friday, and officials warned that it could take days to fully restore electrical service throughout the city and state.
With residents of the region urged to stay home, automakers virtually halted production here and across the Midwest. Most of downtown Detroit remained shuttered and deserted. Bottled water was trucked into some areas, mail delivery was canceled in two ZIP codes and only 9 percent of the city's gas stations were open, producing long lines that in some cases were monitored by police.
City buses were halted. Truckers, though unimpeded by commuters, had to wait several hours to haul their freight into Canada over the Ambassador Bridge.
As day turned to evening, a state of emergency for the Detroit region declared by Michigan Gov. Jennifer Granholm remained in effect, though officials announced that power had been restored to 1.2 million of 2.1 million homes. While much of the nation's focus during the blackout was focused on New York City, Detroit was rebounding from the disaster more slowly.
"We are through the first 24 hours of this blackout with probably better results than any of us could have expected," Wayne County Prosecutor Mike Duggan said at a Friday afternoon news conference with Detroit Mayor Kwame Kilpatrick. "But we are a long way from being out of the woods."
Granholm warned Detroit retailers selling gas and ice at exorbitant prices that they would be prosecuted. Three cooling centers were set up for seniors at elementary schools. And bottled water donated by local supermarkets was distributed to the city's 12,000 public housing residents. The city's water system was operating well below capacity. Residents of Detroit were urged to conserve water and boil it before drinking it.
The Woodward Dream Cruise, the world's largest one-day celebration of the car culture that was scheduled to bring 30,000 vehicles to suburban Detroit streets, was thrown into disarray when some events were canceled and police ordered all cars off Woodward Avenue after 8 p.m.
Businesses that had planned all year for the event were closed, and police urged people to stay away.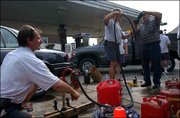 Copyright 2017 The Lawrence Journal-World. All rights reserved. This material may not be published, broadcast, rewritten or redistributed. We strive to uphold our values for every story published.