Thousand Oaks, Calif. — President Bush, shovel in gloved hand and jagged mountaintop behind him, dished spades of dirt into a washed-out trail rut Friday, a symbol of what he later called his administration's aggressive push to cross items off the national park system's long repair list.
Appearing before a small corral of park workers and volunteers, Bush reported advances on his 2000 campaign promise to spend nearly $5 billion over five years on sprucing up national parks -- what he called "the crown jewel of America's recreation system."
Conservation groups, however, immediately charged Bush was exaggerating the progress.
The president said Congress had responded to his requests by appropriating $1.8 billion over the last two years, and that he was asking for $1.1 billion for the next fiscal year, plus another $2.2 billion for 2005 and 2006. The money has paid for 900 maintenance projects, with 900 more either under way or planned, Bush said.
On Friday, Thomas C. Kiernan, president of the National Parks Conservation Assn., said Bush's stop was "little more than a photo opportunity, offering spin over substance." Even though some projects have been completed, he said, the overall backlog is largely unchanged.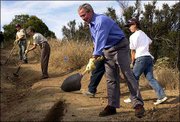 Copyright 2018 The Associated Press. All rights reserved. This material may not be published, broadcast, rewritten or redistributed. We strive to uphold our values for every story published.