Cleveland — Kelly Holcomb and Tim Couch certainly didn't make things any easier for their coach.
Cleveland's two quarterbacks, neck-and-neck in their fight to be the starter, both played well in their final auditions for Butch Davis before the Green Bay Packers beat the Browns, 38-31, Friday night in an exhibition.
Holcomb started and threw two TD passes in the first quarter before being replaced by Couch, who completed his first four passes -- the last a 20-yard TD to Kevin Johnson -- to give the Browns (0-2) a lead in the second quarter.
Holcomb finished 7-of-10 for 166 yards, making him 14-of-21 for 237 yards in two preseason games. Couch was 4-of-7 for 53 yards.
Ahman Green rushed for 55 yards and scored on a 1-yard run for the Packers (2-1), who rallied behind TD runs from Herbert Goodman and Nick Luchey in the third quarter.
Jaguars 27, Dolphins 23
Jacksonville, Fla. -- Byron Leftwich, making his NFL debut, threw a touchdown pass with 1:02 remaining to give Jacksonville a win over Miami.
The 6-foot-5, 245-pound Leftwich showed a strong arm, good decision-making ability and lots of mobility -- everything the Jaguars (2-0) knew he had when they made him their quarterback of the future with the seventh overall pick in the draft.
Leftwich ended a 19-day holdout this week, practiced just two days and then played the final nine minutes of the second preseason game.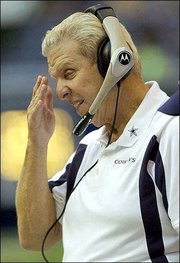 He was 7-of-10 passing for 84 yards and looked comfortable in the offense.
Cowboys 34, Texans 6
Irving, Texas -- Playing the entire first half while co-front-runner Chad Hutchinson watched, Quincy Carter overcame a slow start to lead a 96-yard touchdown drive. Just 14 seconds later, he threw a 30-yard touchdown pass.
Parcells, coaching for the first time along the home sideline at Texas Stadium, showed more emotion over Carter's miscues -- but couldn't contain his excitement in the fourth quarter when sixth-round draft pick Zuriel Smith returned a punt 83 yards for a touchdown.
Colts 21, Seahawks 7
Indianapolis -- Playing in front of the smallest crowd to watch a game in Indianapolis, the Colts' defense forced five turnovers, had four sacks, scored one touchdown and set up another.
Although more than 37,000 tickets were sold, only 26,741 came to the Colts' preseason home opener following an offseason filled with speculation the team might move to Los Angeles.
Peyton Manning connected on 10 of 15 passes for 88 yards and two touchdowns, and wide receiver Marvin Harrison caught five passes for 74 yards and a touchdown for the Colts (1-1). Two-time NFL rushing champ Edgerrin James sat out.
Panthers 20, Giants 10
East Rutherford, N.J. -- Safety Mike Minter scored on 43-yard fumble return in a big second quarter, and Carolina defeated New York in John Fox's first game at Giants Stadium since resigning as the team's defensive coordinator to become the Panthers coach last season.
John Kasay added field goals of 22 and 31 yards in a 13-point second quarter, and Rod Smart scored on a 1-yard run early in the third quarter as the Panthers (2-0) sent the Giants to their second straight preseason loss.
Copyright 2018 The Associated Press. All rights reserved. This material may not be published, broadcast, rewritten or redistributed. We strive to uphold our values for every story published.