Baltimore — His struggle had become so profound that Aaron Boone felt compelled to express his anguish to New York manager Joe Torre after a fifth-inning strikeout.
So when he came to the plate in the ninth inning Friday night with two runners on and the Yankees down 3-2, Boone was desperate to break out of his perplexing slump.
He did, in far from routine fashion, hitting a disputed three-run homer that gave New York a bizarre 6-4 victory over the Baltimore Orioles.
"It's nice to finally contribute a little offensively," said Boone, whose home run ended his 6-for-51 run since the Yankees acquired him from Cincinnati on July 31.
Boone's drive to left was initially called foul by third base umpire Jeff Nelson. After Boone came running across the field to protest and Yankees manager Joe Torre joined the argument, the umpires huddled and reversed the call.
Orioles manager Mike Hargrove then came out to argue, and was ejected from the ballgame.
Hargrove tossed his hat and a rectangular bat weight on the infield grass as he walked off the field.
Replays seemed to indicate the ball traveled well inside the foul pole.
"Their job is get the call right, and they felt that they did," Hargrove said. "It's just a little tough to take."
Earlier, after striking out with two runners on in the fifth, Boone walked up to Torre in the dugout.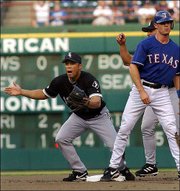 "I told him, 'Sorry, Skip. I'm embarrassed,"' Boone said.
But the ending couldn't have been sweeter.
"This is a guy who needs an opportunity to win a game," Torre said. "You don't trade for a third baseman for his glove."
After Boone connected against Jorge Julio (0-5), Alfonso Soriano added a solo shot for a 6-3 lead.
Jeff Nelson (4-2) earned the victory despite giving up a tiebreaking RBI double to Larry Bigbie in the eighth.
The Orioles threatened again in the ninth. Jack Cust led off with a homer off Mariano Rivera to make it 6-4 and Baltimore had the tying runs in scoring position with Jay Gibbons up and two out.
Gibbons hit a tapper back to the mound, however, and Rivera picked up his 25th save.
Bernie Williams also homered for the Yankees, who stranded 16.
Indians, 1 Devil Rays 0
Cleveland -- Josh Bard hit a one-out RBI single in the ninth inning, lifting C.C. Sabathia to his first career shutout.
Home plate umpire Dale Scott appeared to walk Toby Hall on three balls in the fifth inning. A replay showed that Hall fell to 0-2 in the count, fouled off several pitches and walked on ball three.
Travis Hafner led off the ninth with a single, then pinch-runner Zach Sorensen advanced to second on Coco Crisp's sacrifice. After Alex Escobar reached on shortstop Julio Lugo's error, Bard rapped his hit off Travis Harper (2-7), then pumped his fists in the air as Sorensen scored.
Sabathia (11-7) struck out the side in the eighth inning on 10 pitches and retiring 14 of his last 16 batters. He allowed just four hits and struck out a season-high nine while walking three in his second straight win.
Sabathia was supported by a solid defense that turned two inning-ending double plays. Shortstop Jhonny Peralta retired two baserunners on hard hit grounders deep into the hole.
Rangers 11, White Sox 5
Arlington, Texas -- Colby Lewis struck out a career-high 10 batters and Rafael Palmeiro drove in four runs as the Texas Rangers beat Estaban Loaiza .
Michael Young homered and drove in three runs as Texas sent Chicago to its third straight loss. Lewis allowed four runs and seven hits in a season-high 72/3 innings to win his second straight start. He was relieved by Ron Mahay.
Loaiza (15-6) came into Friday's game leading the AL with a 2.24 ERA. He allowed a season-high seven runs in five innings and had his four-game winning streak snapped.
The Rangers led 8-0 after six innings, but the White Sox scored two in the seventh and three more in the eighth.
Carl Everett went 1-for-4 with a homer in his return to Texas. The Rangers traded Everett to the White Sox for three minor leaguers on July 1.
Angels 3, Tigers 1
Anaheim, Calif. -- John Lackey pitched shutout ball into the ninth inning and Bengie Molina drove in two runs.
Lackey (8-11) allowed seven hits, including Bobby Higginson's 10th home run of the season leading off the ninth. The homer came on Lackey's 93rd and last pitch.
Troy Percival relieved and closed it out for his 26th save in 27 chances.
Mariners 10, Red Sox 5
Seattle -- Ichiro Suzuki hit his second grand slam of the season and Mark McLemore had two doubles and two singles in four at-bats.
Suzuki's sixth-inning homer broke a 4-all tie and made a winner of reliever Julio Mateo (4-0), who got just one out but became the first Seattle pitcher since Joel Pineiro at the end of 2000 and start of 2001 to win his first four decisions.
Blue Jays 8, Athletics 5
Oakland, Calif. -- Eric Hinske hit two home runs and matched his career high with four RBIs as Toronto defeated Oakland.
Chris Woodward also homered and drove in a pair of runs for the Blue Jays, who won their second straight.
Terrence Long and Erubiel Durazo homered for the A's, losers of three in a row.
Josh Towers (2-1) won as a starter for the first time since Aug. 17, 2001, at Boston when he was with the Baltimore Orioles.
Copyright 2018 The Associated Press. All rights reserved. This material may not be published, broadcast, rewritten or redistributed. We strive to uphold our values for every story published.