Washington — Investigators focused on an electrical transmission loop that encircles Lake Erie as they tried to understand a massive power blackout that cut across the Northeast and Midwest, leaving millions of people without electricity.
Although no cause has been determined, officials were taking particular interest in a series of power line interruptions that occurred in the Cleveland area during the hour before the blackout hit Thursday, racing across the region from southern New England to Michigan.
Two minutes after the last of these Cleveland-area line problems there were "power swings noted in Canada and the eastern U.S.," said a document made public late Friday by the North America Electric Reliability Council.
But the council's document cautioned "it's not clear if these events caused the (wider blackout) or were a consequence of other events."
Public Utilities of Ohio Chairman Alan Schriber said the information from the council was inconclusive but that "it's in the realm of possibility" that power was being drawn from FirstEnergy from outside its system because of increased power demand.
'Need to modernize'
Meanwhile, the White House announced a U.S.-Canadian task force would investigate the cause of the blackout and identify actions to prevent it from happening again. It will be headed by Energy Secretary Spencer Abraham and Canadian Natural Resources Minister Herb Dhaliwal.
President Bush said the power breakdown showed "we need to modernize the electricity grid." But, he acknowledged, "Something like this isn't going to happen overnight."
Council officials also said that as of late Friday afternoon about two-thirds of the lost power had been restored throughout the affected region. At the peak, 61,800 megawatts of power had been lost; by 4:15 p.m. Friday all but 19,900 megawatts had been restored, the council said. It gave no breakdown on what areas were still without power.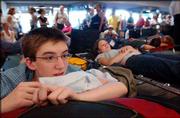 The cause of the blackout remained elusive. Earlier it had been believed the problem started in Canada, while another theory had the cause pinned down to eastern Michigan.
What did become clear, however, was that power grid experts were stunned at the broad reach of the blackout and the speed -- a matter of seconds -- in which it spread thousands of miles across New York and southern New England to the eastern sections of Michigan and into Canada.
"We never anticipated we could have a cascading outage" of this magnitude and speed, said Michehl Gent, chief of North America Electric Reliability Council, the industry-sponsored organization charged with assessing the dependability of the nation's electric grids.
But it may be days, even weeks, before solid answers emerge.
Looking at Lake Erie
As power slowly began to be restored Friday, officials jumped from one theory to another in search of a cause.
Gent at a news conference acknowledged that the answer was somewhere on what is called the "Lake Erie Loop" -- a massive but troublesome transmission loop that encircles Lake Erie from New York to Detroit, into Canada and back to New York.
"That's the center of the focus. This has been a problem for years, and there have been all sorts of plans to make it more reliable," Gent said.
About the time power was disrupted at 4:11 p.m. EDT Thursday, technicians noticed a stunning development on the northern leg of the loop: Some 300 megawatts of electricity moving east abruptly reversed course and within seconds 500 megawatts of power suddenly was moving west.
Electricity flows on its easiest path so it is believed the change in direction was caused by a sudden reduction in power somewhere on the line at the western end of the loop, investigators suggested.
Copyright 2018 The Associated Press. All rights reserved. This material may not be published, broadcast, rewritten or redistributed. We strive to uphold our values for every story published.