ROCHESTER, N.Y. — Everyone is picking on Tiger Woods.
The latest onslaught was a harmless prank Tuesday morning at Oak Hill. After Woods ducked into a portable toilet just off the 12th tee at Oak Hill, good friend Mark O'Meara heaved his golf ball smack into the door.
The five-deep gallery erupted in laughter, and Woods emerged with a sheepish grin, tossing the ball back at O'Meara.
It was a playful moment during a practice round for the PGA Championship, but his week took on a more serious tone when he faced a skeptical line of questions.
Is there a sense of urgency to win this major?
Has the gap narrowed from a chasm to a crack?
Does he feel any less confident about breaking Jack Nicklaus' record of 18 majors?
So much has changed in one year.
Woods was oh-so-close to the Grand Slam in 2002, winning the first two majors and missing the others by one bad round at the British Open and one stroke at the PGA.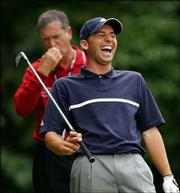 Now, he could be oh-for-the-Grand Slam, territory he hasn't tread since 1998.
"That's the way it goes," Woods said. "I've tried. Sometimes I just can't quite get it done and other times you can. Obviously, this year I've come close and just haven't quite gotten over the hurdle."
The hurdle this week comes in a variety of sizes.
Oak Hill presents a stiff challenge with its tight fairways framed by rough so thick Woods didn't bother hitting out of it Tuesday. Why bother? The only option is to hack it back into the fairway.
Worse yet, Woods watched the maintenance crew use rakes to brush up the tall grass, making the blades of grass -- some of them 8 inches -- go away from the green.
"You really can't get the ball to the green if you drive it in the rough," he said.
The opposition could come from any number of players, especially considering the eight multiple winners on the PGA Tour this year are the most since 1969.
But the real hurdle is going into the offseason without a major.
Woods has made it look routine since winning the 1999 PGA Championship at Medinah. He won three more majors the next year, completed his own version of the Grand Slam in 2001 at the Masters, and added another Masters and U.S. Open last year.
Now that he's gone five majors without a trophy, don't expect a lot of sympathy.
"He might as well join the queue," said Ernie Els, the second-best player in the world who has accumulated three majors in 10 years.
"We would all like to go in there and win major championships, but it's not always going to work out for you," Els said. "It's amazing what he's done in his short career, to win majors every year. Some people go through their whole career maybe not winning one."
Phil Mickelson comes to mind.
"You've got to have your whole game with you," Els said. "And you've got to have a bit of luck going for you, also."
Woods is the last player to argue with that.
When he was winning four straight majors, Woods made every important putt inside 10 feet. During that record-smashing season in 2000, he played his final 47 rounds of the season at par or better and finished out of the top 10 only twice.
"I really haven't got any positive momentum going for a sustained period of time," Woods said. "It's been maybe one round here, six holes here, nine holes there. When I won those majors, I played well for the entire week."
Everything is traced back to "those majors."
Every season is compared to his best one.
The bar keeps getting higher.
Since Woods turned pro in 1996, only three other players have won four times in one season -- David Duval, Mickelson and Davis Love III.
Woods already has four victories this year. He's the only player in history to have won that much five years in a row.
"Is it up to his standards? Is he probably happy with his year? I would say probably not, but you'd have to ask him," U.S. Open champion Jim Furyk said. "Is it a bad year? It's not even close by anyone's standards.
"If the rest of us could win once in a year, it's a good year. If we win multiple times, it's a great year. He won (four), he's got a lot of his schedule left and he's being criticized."
Furyk is among those having a great year. So is Mike Weir, the Masters champion with two other victories. Love won his career-best fourth tournament last week.
All of them are a lot closer to Woods than they were two years ago, and the gap will be perceived as shrinking even more if Woods isn't holding the Wanamaker Trophy at the end of the week.
"He was on a great roll for a long time, and he still is," Weir said. "It did feel for a lot of us like we were playing for second, and that's probably how much ahead he was at that time. He's still the best player out there. But the gap is narrowing just a little bit."
Meantime, the gap between Woods and Nicklaus is the same as it was five majors ago after he won the U.S. Open at Bethpage -- Woods has eight majors, Nicklaus 18.
Can he catch him?
"I feel like if I keep playing well, keep giving myself chances, I'll get my share," Woods said. "And hopefully, it will be enough."
Copyright 2018 The Associated Press. All rights reserved. This material may not be published, broadcast, rewritten or redistributed. We strive to uphold our values for every story published.