Baghdad, Iraq — All troops in Iraq should expect to serve for at least a year, with brief rest breaks in the region and possibly a few days at home, the commander of U.S. forces said Tuesday.
The word came as news to some soldiers.
"It's a one-year rotation," Lt. Gen. Ricardo Sanchez told The Associated Press in an interview. "Every soldier has been told that they'll be deployed for a year, and then at the end of the year we'll be working to send them home."
But some of the 148,000 soldiers in Iraq said nobody told them how long they would remain in the country, where guerrillas attack Americans daily and high temperatures often top 120 degrees.
Pfc. Deacon Finkle, 20, of Dallas, screwed up his face -- red from the heat -- when asked how long he would be in Iraq.
"Don't know. No idea," he said.
Spc. Jeff Ross, perched atop a bridge overlooking Baghdad's dangerous Airport Highway, knew he was scheduled to be in Iraq for a year, saying: "We really don't have a choice."
"A year's going to be rough. It's going to be a long haul," said Ross, 22, of Hillsboro, Ore. "But I think we can do it. If it cools off a little bit, it'll be all right."
The issue of soldiers' tours has been contentious, with troops and their families posting missives on the Internet criticizing their government for keeping U.S. forces in Iraq.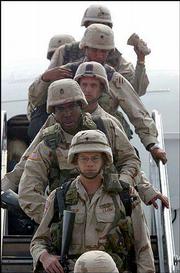 Some express concern about "mission creep," in which what begins as a swift war turns into a long-term occupation that could cause heavy American casualties as Iraqis become more and more skeptical of U.S. promises to let them govern themselves.
"They need to come home!" Kimberly, the wife of a reservist deployed in February, wrote on the Web site of the support organization Military Families Speak Out. "Our unit has no redeployment date in sight, and we are constantly told that they may even be extended."
The announcement came as no surprise to relatives of military personnel in Lawrence, Kan.
Vivian June said her grandson, Matthew Decker, an Army tank gunner in Baghdad, had told his family his deployment would be six months to a year. He has been in Iraq since May.
"We really hoped it would be sooner than that, but we thought, let's don't count on six months," June said.
¢ West of Baghdad, guerrillas attacked an American convoy with three roadside bombs, killing one U.S. soldier and wounding two.The soldier killed Tuesday morning was riding in a Humvee in Ramadi, a site of frequent attacks on American troops 60 miles west of Baghdad. A military spokesman said the convoy was hit by three roadside bombs wired to explode one after another.The death brought to 58 the number of U.S. troops killed in action since May 1, when President Bush declared major combat over.¢ American soldiers rounded up 14 members of a family said to be a pillar of support for Saddam Hussein in raids Tuesday on the outskirts of Tikrit, Saddam's hometown, including a Republican Guard officer and one of the deposed dictator's bodyguards.Lt. Col. Steve Russell said the Republican Guard officer was a divisional chief of staff. He and the bodyguard were on a U.S. black list of Iraqis considered major catches but not as important as the top 55 most-wanted figures.¢ North of Baghdad, a dark cloud blotted out the sun as flames shot 200 feet into the air from a burning oil pipeline. Iraqi firefighters later doused the blaze with chemicals.It was unclear whether the fire, 12 miles north of Baghdad in an area known as Taji, was an accident or the work of saboteurs. Guerrillas have hit many pipelines to slow U.S. reconstruction efforts and delay the resumption of Iraq's oil exports.
Nor was Joe Thibodeau surprised. His son, Jon-Marc Thibodeau, serving as a medic with the 101st Airborne Division in Baghdad, has been in Kuwait and Iraq since January or February.
"He was really disappointed," Joe Thibodeau said of his son. "He kept telling us it would be in the fall. We were telling him that from everything we were hearing here, it was probably going to be a year. We were expecting it."
Kathy Frye's two Marine sons, Terran and Justin Frye, returned earlier this summer from the Iraq and the Persian Gulf. Nevertheless, Kathy Frye said she still worried about the troops still there.
"I still feel like a part of me is over there. It doesn't matter to me whether its Marine, Army or who they are," Kathy Frye, of Perry, Kan., said.
Creature comforts
Sanchez said commanders were working hard to make soldiers' lives more bearable, and many soldiers said they were getting new creature comforts such as better food, more air conditioning and access to television and the Internet.
"We've been doing a tremendous amount for them," Sanchez said in his office in Saddam Hussein's former palace, a copy of former New York City Mayor Rudolph Giuliani's "Leadership" displayed on the bookshelf.
Sanchez said soldiers were starting to get "outs" to rest camps inside Iraq to improve morale.
"They get pulled off-line for two or three days and they get to rest in an environment that is essentially stress-free, as much as you can be inside of Iraq," he said. "They've got Internet, they'll get TV, they'll have air-conditioned space, they'll get hot meals. In some places they have swimming pools, so we kind of get them to relax."
Sanchez also said 150 soldiers a day were being flown to the Persian Gulf state of Qatar for breaks, and that other R&R; bases were planned for Jordan and Turkey.
Internet rumblings
But on the Internet, some soldiers' families criticized the vacations, saying commanders should instead work on getting the soldiers home for good.
"My son-in-law has been in Iraq since March. ... He has been given orders that extend his stay until JULY 2004," reads a message signed "Bette" on the Web site of Military Families Speak Out.
"His company just had a two-day vacation(?!) in Qatar. President Bush has just left for his MONTH-LONG vacation on his ranch in Crawford, Texas. Let's send all of the troops to President Bush's ranch and send the President to Iraq."
Sanchez also spoke of a proposal to give soldiers a "mid-tour break" to see their families.
"The intent would be that between your fifth and 10th month of deployment you'd get 14 days of leave and be able to go home," Sanchez said, adding that he hoped the plan would be approved "within a couple of weeks."
In Baghdad, some soldiers said life was slowly getting better. Sgt. 1st Class Charles Ragsdale, 34, of Atlanta, was guarding the Baghdad International Airport, which he said was becoming more livable.
"The Army is doing a lot of things every day, every week, to improve the morale of the soldiers out here," he said. "They're trying to get air conditioning. ... The chow's getting better. There's TV and movies. They're doing the best they can."
Copyright 2018 The Lawrence Journal-World. All rights reserved. This material may not be published, broadcast, rewritten or redistributed. We strive to uphold our values for every story published.