Minneapolis — A.J. Pierzynski was not about to let the Minnesota Twins' four-game winning streak end without a struggle.
The Twins rallied for two runs in the ninth inning, then Pierzynski nearly delivered a big hit before striking out on the 14th pitch of his at-bat as the Cleveland Indians held on, 9-6, Tuesday night.
Ryan Ludwick hit two home runs for the Indians, who kept the Twins 21/2 games behind American League Central leader Kansas City.
"The first multi-home run game in the big leagues is a thrill, but hopefully there's many more to come," Ludwick said.
Ludwick, Angel Santos and Casey Blake all homered during a four-run seventh inning that put the Indians ahead 8-4.
Cleveland led 9-4 going into the bottom of the ninth, but Doug Mientkiewicz's one-out, bases-loaded single off closer Danys Baez brought the Twins within three.
After Corey Koskie fouled out, Pierzynski pinch-hit and battled Baez. With two runners on, Pierzynski fouled off eight pitches, including a long drive to right field that narrowly missed being an extra-base hit by about a foot.
Pierzynski finally fanned on a fastball, and his bat went sailing into the crowd.
"It was a good at-bat against a very good pitcher, and that's the way it goes," Pierzynski said. "It was a fun at-bat. I'm disappointed that's the way it ended, but it wasn't meant to be."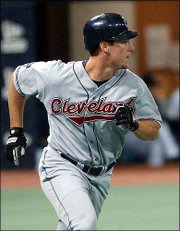 Baez needed 46 pitches to retire the Twins in the ninth.
Joe Mays was picked to start for the Twins about two hours before gametime after Rick Reed was scratched because of back spasms.
Mays gave eight hits and three runs in five innings. He had not pitched since Aug. 2 and had not started since July 5.
Mays actually left with the lead, when Matthew LeCroy's two-run homer off Jason Boyd in the fifth inning gave Minnesota a 4-3 lead.
Indians starter Billy Traber lasted only three innings, giving up two runs on five hits.
After Hafner's two-run double in the second inning gave Cleveland a 2-0 lead, the Twins tied the game on a bizarre play in the third.
With one out and runners on second and third, Mientkiewicz struck out on a pitch in the dirt. Catcher Josh Bard trapped the ball, and threw out Mientkiewicz out at first.
When Bard threw, Cristian Guzman broke for home. First baseman Ben Broussard threw back to the plate, but the ball short-hopped Traber covering and bounced away, allowing Guzman to score and letting Shannon Stewart come home from second.
"They were aggressive on the bases right there," Indians manager Eric Wedge said. "Obviously, that's something that can't happen."
White Sox 10, Angels 4
Anaheim, Calif. -- Dan Wright, winless in 12 starts this season, earned a victory in his second appearance out of the bullpen and Chicago beat Anaheim.
Magglio Ordonez, Sandy Alomar Jr. and Carlos Lee drove in two runs apiece for the White Sox, who moved within a half-game of first-place Kansas City in the AL Central.
Wright (1-5), who pitched in relief Saturday for the first time since his major-league debut in July 2001, was scheduled to start the game before Neal Cotts was called up from the minors to make his big-league debut. It lasted only 31/3 innings, however, and Wright was brought in with the bases loaded and one out.
The right-hander retired Scott Spiezio and Bengie Molina to escape the jam.
Athletics 5, Red Sox 3
Oakland, Calif. -- Barry Zito pitched into the sixth inning for his first win since July 3, and Eric Chavez and Terrence Long homered during Oakland's five-run first as the A's beat the Red Sox and pushed ahead of Boston in the AL wild card race. Zito (9-10) ended his five-game losing streak and six weeks of frustration with a strong beginning and a shaky finish against baseball's most prolific lineup.
Devil Rays 4, Orioles 2
St. Petersburg, Fla. -- Rob Bell took a one-hitter into the eighth and Damian Rolls hit a two-run double as Tampa Bay beat Baltimore. Carl Crawford and Rocco Baldelli added run-scoring singles for the Devil Rays, who are 15-11 since the All-Star break. Bell (3-2) shut out the Orioles through seven innings. After Deivi Cruz walked to start the eighth, Larry Bigbie ended the right-hander's night with an opposite-field homer.
Tigers 7, Rangers 4
Arlington, Texas -- Jeremy Bonderman pitched seven solid innings and Brandon Inge had three RBIs as Detroit spoiled the major-league debut of Texas starter Juan Dominguez. Carlos Pena and Craig Monroe hit consecutive homers in the fifth inning, helping Detroit win for the sixth time in 20 games. Bonderman (6-15) allowed three runs and four hits, winning for the fourth time in six decisions. The 20-year-old right-hander struck out two and walked three.
Mariners 3, Blue Jays 1
Seattle -- Freddy Garcia snapped a career-worst six-game losing streak, outpitching Roy Halladay and leading Seattle past Toronto. Edgar Martinez's RBI double put Seattle ahead for good. Garcia (10-12) overcame a shaky start, winning for the first time in eight starts since beating Anaheim 6-4 June 24. He allowed four hits and five walks in 61/3 innings, striking out four.
Copyright 2018 The Associated Press. All rights reserved. This material may not be published, broadcast, rewritten or redistributed. We strive to uphold our values for every story published.