Baton Rouge, La. — Grilled T-bone steak is a novice cook's dream.
With little preparation, other than starting a gas grill or lighting a charcoal and waiting for the coals and grills to reach the proper cooking temperature, you can have a sizzling, irresistible steak on the table in less than an hour.
When grilled to preferred doneness, medium rare or medium for most steak lovers, a steak barely needs salt and pepper. However, lest one think this All-American classic is not a worthy culinary accomplishment, know that dozens of cookbooks have been written on the nuances of steak preparation and seasoning. Grilling a steak can be as complicated or simple as you like.
There has been some debate in our family over the merits of marinades versus dry-rub seasoning for steaks. My father-in-law subscribes to marinades. He likes to soak a steak in a zesty Italian salad dressing-based sauce for four or five hours before grilling time.
A brother-in-law maintains that a good cut of beef doesn't need tenderizing, and he prefers rubbing a mixture of spices and herbs into the raw meat, wrapping it up and refrigerating it for four or five hours, preferably overnight, before grilling time.
Which seasoning method produces the best tasting steak?
The Baton Rouge Advocate food staff members decided the question needed to be answered. They purchased two identical, 1 1/2-inch thick T-bone steaks. They mixed up similar seasoning bases, one as a marinade and the other as a dry rub.
They put one steak in the marinade and rubbed the dry-rub mixture into the other steak. Both were placed in closed plastic bags and refrigerated over eight hours.
When time to grill, they let the steaks sit covered on a counter in a 70-degree air-conditioned kitchen for 15 minutes before grilling on a charcoal-fired grill.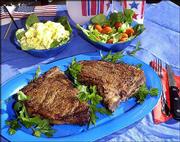 They noticed that the dry-rub-seasoned steak cooked about a quarter of the time faster than the marinated steak. Both were cooked to medium and removed from the coals.
The cook let the steaks sit for three or four minutes before carving to allow the juices to distribute through the meat. He served two tiny slivers cut from the middle of each steak to the taste testers, but did not tell them which steak was marinated and which was dry-rub seasoned.
Which steak did they like best?
The vote was unanimous and surprised the tasters. The dry rub won.
"It had more flavor" and "it had a better tasting crust" were two of the comments from the tasters.
It was an interesting experiment, though it is important to remember that the dry-rub method was used on a cut of steak that is naturally tender. A less tender cut may very well need the tenderizing influence of a vinegar- or wine-based marinade.
There are many recipes for seasoning rubs and marinades, as well as salsas and butters to serve with grilled steaks. Here are a few of our favorites.
Fiery Creole Pepper Rub
----
3/4 cup dried thyme leaves
3/4 cup paprika
1/4 cup black ground pepper
1/4 cup garlic powder
1/4 cup red ground pepper
1/4 cup white ground pepper
1/4 cup salt
Mix together and store in tightly covered container.
Makes 2 1/2 cups.
Hellfire Steaks
----
4 T-bone steaks, cut 1-inch thick
Coarse salt and black pepper
2 to 3 tablespoons dry mustard
2 to 3 tablespoons hot pepper sauce, to taste
Place the steaks on a plate and sprinkle both sides with salt and plenty of pepper and the dry mustard, patting the spices onto the meat with a fork.
Drizzle the hot pepper sauce over the steaks, again patting it with a fork. Let the meat sit while you preheat the grill.
Set up the grill for direct grilling and preheat to high. When ready to cook, brush and oil the grill grate. Arrange the steaks on the hot grate at a 45-degree angle to the bars of the grate. Grill for 4 to 6 minutes per side for medium rare, rotating the steaks after 3 minutes to create an attractive crosshatch of grill marks.
Coarsely grind as much pepper as you can bear over the steaks as they grill. Transfer the steaks to plates or a platter and let rest for 3 minutes, then serve.
Makes 4 servings.
Grilled Tuscan Steak With Olive Oil and Lemon
----
2 beef T-bone steaks, each 1 1/2 inches thick
2 teaspoons kosher salt
1 teaspoon black pepper
3 tablespoons extra-virgin olive oil
Lemon wedges for serving
Build a two-level fire by stacking most of the coals on one side of grill and arranging remaining coals in single layer on other side. Coals have reached proper temperature when covered with a layer of fine gray ash. Set cooking grate in place, cover grill with lid, and let grate heat up, about 5 minutes. Use wire brush to scrape grate clean. Grill is ready when thicker layer of coals is medium-hot. (You can hold your hand 5 inches above cooking grate for 3 to 4 seconds).
Meanwhile, sprinkle each side of steaks with 1/2 teaspoon salt and 1/4 teaspoon pepper. Cook steaks uncovered, over hotter part of grill until well-browned on each side, about 2 1/2 minutes per side. If steaks start to flame, move them to cooler side of fire. Move steaks to cooler side of grill and continue cooking, turning once, to desired doneness, 7 to 8 minutes for medium rare to medium.
Transfer steaks to cutting board and let rest 5 minutes. Cut into crosswise slices about 1/2-inch thick and drizzle with olive oil. Serve with lemon wedges.
Makes 4 servings.
Steak With Parmesan-Grilled Vegetables
----
2 T-bone steaks, cut 1-inch thick
1/4 cup grated Parmesan cheese
2 tablespoons olive oil
2 tablespoons red wine vinegar
2 medium red or yellow bell peppers, each cut lengthwise into quarters
1 large red onion, cut crosswise into 1/2-inch slices
Salt
Seasoning:
1 tablespoon crushed garlic
2 teaspoons dried basil leaves
1 teaspoon pepper
In a small bowl, combine seasoning ingredients; mix well. Remove 4 teaspoons seasoning; press into both sides of steaks. Add cheese, oil and vinegar to remaining seasoning, mixing well; set aside.
Place steaks in center of grid over medium, ash-covered coals; arrange vegetables around steaks. Grill steaks, uncovered, 14 to 16 minutes to medium rare to medium doneness, turning occasionally.
Grill peppers 12 to 15 minutes and onion 15 to 20 minute or until tender, turning both once. Brush vegetables with reserved cheese mixture during last 10 minutes of grilling. Season steaks with salt, as desired. Carve steaks crosswise into thick slices; serve with vegetables.
Makes 4 servings.
Marinated Grilled Steaks
----
1/4 cup lemon juice
3/4 cup orange juice
1/4 cup vegetable oil
2 tablespoons chopped fresh parsley
2 large garlic cloves, peeled and minced
1 small onion, peeled and chopped
2 bay leaves, crumbled
1 tablespoon Italian seasoning
1 teaspoon salt
1/2 teaspoon freshly ground black pepper
2 T-bone steaks or boneless strip steaks
Combine lemon juice, orange juice, oil, parsley, garlic, onion, bay leaves, Italian seasoning, salt and pepper in a large resealable plastic bag. Add steaks. Marinate 30 minutes to 1 hour, depending on the size of steak and time available.
Prepare grill or heat broiler. Remove meat from marinade. Discard marinade. Grill meat to desired doneness. Turn with tongs. Allow steaks to rest 5 minutes before carving. Serve immediately.
Makes 4 servings.
Steak With Blue Cheese Butter
----
1/2 cup butter or margarine, softened
1/2 cup (2 ounces) crumbled blue cheese
1 tablespoon snipped fresh parsley
1 tablespoon snipped fresh basil or 1 teaspoon dried basil, crushed
1 clove garlic, minced
2 T-bone steaks, cut 1 to 1 1/4 inches thick
For butter mixture: In a small bowl, stir together butter, blue cheese, parsley, basil and garlic. Set aside.
To cook steaks: Preheat grill and reduce heat to medium. Place steaks on grill rack directly over coals. Grill until steaks are desired doneness, about 8 to 14 minutes for medium rare and 12 to 18 minutes for medium.
To serve, cut steaks into portions and top each portion with a generous tablespoon of the blue cheese butter mixture. Cover and chill the remaining butter mixture for another time.
Makes 4 servings.
Grilled T-Bone and Peppers
----
4 beef T-bone steaks, cut 1-inch thick
4 small red, yellow and green bell peppers, cut into quarters
Green Onion and Garlic Butter (recipe follows)
Salt
Pepper
Place steaks and bell peppers on grill grid over medium, ash-covered coals. Grill, uncovered, 14 to 16 minutes until steaks are medium rare to medium doneness and peppers are tender, turning occasionally.
Remove steaks to platter. Top each steak with 2 teaspoons of Green Onion and Garlic Butter (recipe follows).
Combine grilled bell peppers with 2 tablespoons Green Onion and Garlic Butter in a medium bowl; toss. Serve with steaks. Salt and pepper, as desired.
Makes 4 servings.
Green Onion and Garlic Butter
----
1/4 cup ( 1/2 stick) salted butter, softened
2 tablespoons finely chopped green onion
1 teaspoon minced garlic
Combine all ingredients in small bowl. Stir with fork until uniformly blended. Makes about 1/3 cup. Store covered in refrigerator until needed. Keeps up to 3 days.
Copyright 2018 The Associated Press. All rights reserved. This material may not be published, broadcast, rewritten or redistributed. We strive to uphold our values for every story published.