RIVER FALLS, WIS. — Before running back Larry Johnson takes a snap with the Kansas City Chiefs' first team offense, he has to study.
Coach Dick Vermeil said the first-round pick out of Penn State had to learn the Chiefs' complicated pass-blocking scheme before he could protect quarterback Trent Green.
"We've got 15 different pass protections and you can't make a mistake when you've got your first-string quarterback in there," Vermeil said. "I don't care if he's the first pick in the world. He isn't going to get in there unless we are confident that he knows what he's doing."
Johnson worked mainly with quarterback Todd Collins and the second unit in practice Tuesday. His few snaps with the first team came mostly during running drills.
"He'll tell you that he's very unsure of himself right now," Vermeil said. "But he grows a little bit every day."
Johnson is battling for the backup running back spot along with third-year player Derrick Blaylock and Jarmar Julien, who spent most of last season on the Chiefs' practice squad.
Julien is expected to miss Saturday night's preseason game against the Minnesota Vikings after spraining his left ankle in last week's loss to the 49ers.
But Vermeil said he hasn't decided if that will mean more action for Johnson.
"We'll start talking about that tonight," he said.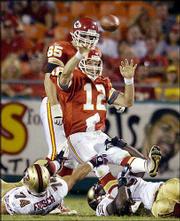 Vermeil said Tuesday might have been the best day of practice yet during training camp.
"We had two excellent football practices, back to back," he said. "I think when we do that individuals come off the field better football players and teams come off the field better football teams. You can't ask them to any more than they did today."
The highlight of the morning practice was the defense's performance during the two-minute drills.
Safety Greg Wesley killed one drive when he picked off a Trent Green pass while cornerback Corey Harris stalled another by intercepting a Green pass intended for Marc Boerigter in the end zone.
The next drive ended when rookie Julian Battle picked off Todd Collins.
"They competed real well and the defense won," Vermeil said. "They took the ball away. That's what we've got to do. If we're going to win those games, we've got to take the ball away from the offense."
Vermeil said he has been impressed by the way the Chiefs' defense is going after the ball.
"I think the guys are doing a good job in that," he said. "When a team does a good job of that it normally means the coaches are doing a good job of coaching it."
Notes: Tuesday's morning practice ended on a light note when veteran receivers Eddie Kennison, Johnnie Morton, Dante Hall, Marc Boerigter and Curtis Jackson taped rookies Wilson Thomas, LaShaun Ward and Chris Horn to the goalposts at the south end of the practice field in front of some fans. The vets then place orange cones on each rookie's head and dumped buckets of ice water and Gatorade over them. The prank was in retaliation for the rookies not serving the veterans breakfast that morning. "If any of you cut them loose, you all are getting tied up too," Kennison yelled at the fans. After a brief struggle, Thomas, Ward and Horn eventually freed themselves.
Copyright 2018 The Associated Press. All rights reserved. This material may not be published, broadcast, rewritten or redistributed. We strive to uphold our values for every story published.