Jacob Costello knows that early Lawrence settlers built a series of mud embankments around town to protect themselves from pro-slavery Missourians.
But Jacob, 12, had another purpose in mind Tuesday when he helped piece together a replica mud fort at Constant Park, near the Kansas River.
"It's a chance to get dirty without my parents saying anything," he said.
Jacob was one of six children who participated in a mud fort-building workshop sponsored by Lawrence Parks and Recreation.
The two-day workshop started Monday with a discussion of early-day Lawrence and a walking tour of the locations of the five mud forts that were built in 1855, both led by local historian Katie Armitage.
Then on Tuesday, that history came to life as the children built a mud fort of their own.
The children's fort was much smaller than those that dotted Lawrence's perimeter in the 1850s and 1860s. Theirs was about 10 feet in diameter and 3 feet tall. The largest original fort -- at the current intersection of Sixth and Massachusetts streets -- was 5 feet tall and 100 feet in diameter.
"It was great," said Kendra Haines, 7. "You got to dig, and you get to see bugs, and you get to make mud balls."
Her father, Steven Haines, said the experience reminded him of building forts as a child and having BB gun wars with friends. Haines said he couldn't imagine early settlers building bigger forts.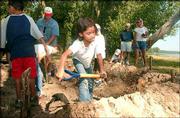 "Believe me, you wouldn't want to go 100 feet on one of these," he said. "A 100-foot fort would be a lot of work."
The early-day settlers had more help to work on their forts. Armitage said men in 1855 divided into groups of 50 to build the forts at key locations around Lawrence.
Richard Cordley, who wrote "A History of Lawrence" in 1895, said the earthworks were circular and about 5 feet tall.
"This was intended as a place of refuge for women and children in case of assault," Cordley wrote.
When the children finished their fort after two hours, they placed an American flag on top.
"We need a bunch of BB guns and see if any pellet gun Confederates come," Jacob said.
Copyright 2018 The Lawrence Journal-World. All rights reserved. This material may not be published, broadcast, rewritten or redistributed. We strive to uphold our values for every story published.