New Orleans — It won't smell or taste like or resemble McDonald's.
And that's just what the fast-food company's executives are banking on to bring customers to their Cajun-style restaurant coming to New Orleans.
McDonald's Corp. will open a new venture, Chef Mac's, in September on the first floor of an office building across from City Hall and the Louisiana Superdome. Modeled after a similar eatery in Orlando, Fla., the new restaurant will have chandeliers, leather couches, stylish tiles and upgraded restrooms.
McDonald's director of operations Bill Garrett describes it as "upscale, quick gourmet casual."
New Orleans is an interesting testing ground for the restaurant. In this city, where people live to eat, there are 3,088 po-boy, Creole, Cajun, seafood, ethnic and soul food restaurants, few of which are part of a chain. And the lunchtime crowds are only minutes away from the French Quarter.
That has not deterred McDonald's, suffering from a two-year slump in a crowded U.S. fast-food market and seeing innovation as the key to its long-term success. The company has tested a number of new concepts in recent years, including diners, coffee shops and self-service kiosks.
Not all new concepts are likely to survive, particularly under a new management that has slowed expansion and capital spending and taken a back-to-basics approach at existing U.S. McDonald's, where speed and service have lagged.
Seeking growth
Ed Strong, a marketing professor at Tulane University who uses McDonald's in case studies, said the idea of looking into diverse areas made sense when traditional restaurants no longer put out the numbers Wall Street craves.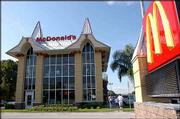 "McDonald's growth never seemed to stop. And now it's stopped," he said. "None of the new alternatives are proven, but it's reasonable to look into these outlets."
The rest of the industry was doing the same, said Greg Sanders, editor and associate publisher of the quick food service trade publication, QSR Magazine.
"American taste has changed," Sanders said. "Speed is important, but quality is now as big."
McDonald's, the world's largest fast-food operator with more than 31,000 restaurants including over 13,600 in the United States, is trying to regain its upward momentum after a disappointing performance in 2002. Last year, total revenue exceeded $15.4 billion, but problems with overseas restaurants and companywide spending led to a $743 million, or 45 percent, drop in earnings from 2001.
That forced the resignation of chairman Jack Greenberg, a 21-year company veteran. He was replaced by Jim Cantalupo, the former chairman and chief executive officer of McDonald's International, who was brought in to return the company to its core business.
New concept, menu
McDonald's officials believe their Big Easy restaurant will succeed by presenting an upscale menu that locals will recognize.
Walter Grote, a New York native who worked five years in a Cajun restaurant in Houma, has been hired as the executive chef. A graduate of the Culinary Institute of America in New York, Grote, 27, will prepare a local flavored menu of Louisiana shrimp, po-boys, muffulettas, barbecue chicken, panini bread filled chicken cordon bleu, and margarita pizzas. All of it will be served on plates, not plastic dishes.
Specialty coffees such as latte, mocha, cappuccino and espresso also will be sold, along with desserts including praline cheese cake and bread pudding.
Garrett said customers would order and pick up at a 30-foot circular counter. Table service is still under consideration. Prices haven't been set, but are expected to be less than $10 per entree.
"A lot of this is still in development," said Debbie Vice, regional marketing manager.
McDonald's isn't abandoning its traditional fast foods, which will remain on the menu.
Copyright 2018 The Associated Press. All rights reserved. This material may not be published, broadcast, rewritten or redistributed. We strive to uphold our values for every story published.