Washington — Corn planted in states east of the Mississippi River has gotten plenty of sunshine and rain, increasing the likelihood that farmers will harvest a bumper crop of 10.1 billion bushels this fall, the Agriculture Department says.
Iowa and Minnesota are the only states in the Corn Belt that probably will see a slight drop in production, department economists say.
They expect Iowa will harvest 1.9 billion bushels, down 52 million from last year. Minnesota is forecast to harvest 1.02 billion bushels -- about 30 million less than last year.
Meanwhile, Illinois will see an increase in production. Corn farmers there probably will harvest 1.7 billion bushels -- 190 million bushels more than last year.
Farmers in Indiana are expected to pull in 792 million bushels, up from the 632 million harvested last year.
This month, exports of U.S. corn are expected to be down 50 million bushels from last month's prediction of 9.9 billion bushels because of an increase in competition from countries such as Argentina. Prices for corn are expected to be in the $2 to $2.40 per bushel range, USDA economists said.
Kansas' and Douglas County's corn crop is expected to be well-below average, ravaged by near drought conditions.
The department adjusted its wheat forecast this month to 2.29 billion bushels -- down 1 percent from July but up 42 percent from last year's crop. Economists attributed the drop to smaller wheat crops.
Farmers are expected to harvest 2.86 billion bushels of soybeans this year. That's a 2 percent increase from last year's crop but a 1 percent drop from the 2001 crop. This month, U.S. soybean exports are up 10 million bushels from last month's forecast of 990 million bushels.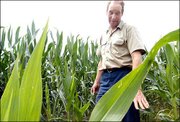 Copyright 2018 The Associated Press. All rights reserved. This material may not be published, broadcast, rewritten or redistributed. We strive to uphold our values for every story published.