Rosh Haayin, Israel — Middle East peace talks swung dangerously close to collapse Tuesday after two Palestinian teenagers shattered a cease-fire with suicide strikes on an Israeli supermarket and a Jewish settlement in the West Bank.
The bomb attacks killed two Israelis, injured 11 bystanders and broke a six-week stretch during which the people of this war-weary land had enjoyed relative quiet. In an exchange of grim recriminations, Palestinian and Israeli officials warned that the region risked tumbling into a new cycle of bloodshed -- and blamed one another.
Israeli Prime Minister Ariel Sharon ordered buses loaded with 76 Palestinian prisoners set for release to turn around and go back to prison. Then he threatened to abandon the frayed peace process altogether.
"The Palestinians do not do what they are supposed to do," he said. "Israel will not be able to continue the (peace) process, despite the strong desire to do so, if the terror does not cease."
Speaking during a tour of the Persian Gulf, Palestinian Prime Minister Mahmoud Abbas condemned the bombings, but in the same breath condemned Israeli "provocations."
"We are standing tonight at a very critical junction," Palestinian negotiator Saeb Erekat said. Without the intervention of the United States, he warned, "things are going to go from bad to worse."
In Washington, Secretary of State Colin Powell promised the United States would continue its struggle to implement the troubled "road map" peace plan. A series of steps meant to create a safe Israel alongside a Palestinian state, the plan hasn't spurred much action despite months of diplomacy.
"We will never get there so long as people continue to participate in terrorist activities, and we see the response to terrorist activities, which are necessary for self-defense," Powell said.
The young assailants, Khamas Gerwan and Islam Qteishat, both 17, blew themselves up less than an hour apart, but an Israeli army commander said there apparently was no coordination. Relatives said the two didn't know each other.
Hamas said the Ariel bombing came as revenge for the killing of two of its bomb makers in an Israeli army raid on Friday, and that the group would now return to observing a three-month truce it declared June 29. The Fatah-linked Al Aqsa Martyrs' Brigades, which claimed responsibility for the attack near Tel Aviv and opposes the cease-fire, threatened more attacks.
Tuesday's were the first suicide bombings since a Palestinian from a splinter cell within the Islamic Jihad group blew himself up in a house on July 7, killing a 65-year-old woman. Still, the past six weeks had been relatively calm, compared to the intense fighting that broke out in September 2000.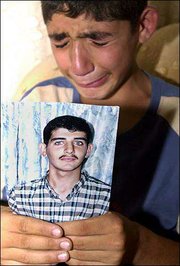 Copyright 2018 The Lawrence Journal-World. All rights reserved. This material may not be published, broadcast, rewritten or redistributed. We strive to uphold our values for every story published.