Confusion reigned the first few minutes after a deadly boat crash Friday night on Perry Lake, as rescue workers from several agencies tried to respond.
"It was pretty hectic, pretty confusing," said Rob Ladner, law enforcement supervisor with the Kansas Department of Wildlife and Parks in Topeka. "It's not like coming onto a car accident."
A craft operated by recreational boaters apparently was first to arrive at the scene where one woman died and several other boaters were injured. Ladner and Jefferson County Sheriff Roy Dunnaway said Monday they weren't sure of the identities of those first at the scene.
The accident occurred shortly before 10 p.m. Friday when a houseboat and what investigators described as a fish-and-ski boat collided about a half-mile from the Perry Lake Marina. The fish-and-ski boat came to rest on top of the houseboat.
Jane A. Marschand, 57, Mission, was pronounced dead at the scene. Two men also on the houseboat were taken to Topeka hospitals.
Roger Jeffers, 56, Meriden, was taken by Life Star to St. Francis Hospital. Ronnie Harper, 56, also of Meriden, was taken by Jefferson County Ambulance to Stormont-Vail Regional Health Center in Topeka. Harper was treated and released, according to hospital officials. Jeffers remained Monday at St. Francis but his condition was not being disclosed, a nursing supervisor said.
Three men and a woman, all from Meriden, were on the boat that wound up atop the houseboat. They suffered bruises and scrapes but were not transported to a hospital, investigators said. Their names have not been released because of the pending investigation.
When notified of the accident, Dunnaway said he drove to a garage in Oskaloosa to get one of his department's rescue boats and haul it to the lake. Jefferson County Emergency Management Director Don Haynes had already left for Perry with another county rescue boat.
When he arrived, Haynes said he launched the boat and took a Jefferson County ambulance paramedic and a Life Star helicopter crew with him. Two civilian boats already were at the crash site.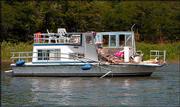 "It wasn't hard to find. They were shining their lights," Haynes said of the two civilian boats.
Haynes said Jeffers and Harper were taken back to the marina for transport to the hospitals.
According to Jefferson County dispatch records, the 911 phone call reporting the boat accident was made at 9:49 p.m. from someone on the fish-and-ski boat. Haynes was called by pager at 9:53 p.m. His boat was the first emergency rescue boat to arrive at the crash scene at 10:27 p.m.
The wildlife and parks department has a patrol boat stationed at the marina but it was out of service for maintenance, Ladner said.
Sheriff's boats are not kept at the marina because it would cost too much to house them there, Dunnaway said. He also said he would not be able to keep all of the boat's equipment on it at the marina.
Wildlife and Parks investigators still are trying to piece together how the accident occurred, Ladner said. The two boats collided virtually head-on, investigators have said. The house boat was idle but not anchored while the fish-and-ski boat was moving.
"This is one of the most bizarre, most unusual accidents I've ever seen, and I've been doing this for 23 years," Ladner said.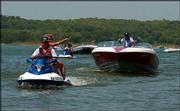 Copyright 2018 The Lawrence Journal-World. All rights reserved. This material may not be published, broadcast, rewritten or redistributed. We strive to uphold our values for every story published.