Everyone knows Dick Cheney is a heartbeat away from the presidency.
Less certain, however, is the player who would succeed Bill Whittemore should the Kansas University quarterback suffer a serious injury.
Competition for that role is "intense," according to KU coach Mark Mangino, but who are these guys? Who are the potential successors?
Mangino has four players, including Whittemore, on scholarship who are listed as quarterbacks, yet a walk-on from a California junior college is also in the picture, so it's basically a four-horse stable behind the Jayhawks' incumbent signal-caller.
Based on experience, the leading candidate is Brian Luke, a rangy 6-foot-6, 220-pound third-year sophomore from suburban San Francisco who was rushed into duty late last season as a red-shirt freshman.
"It was exciting," Luke said about his force-feeding. "I might have learned the hard way, but you learn from your losses."
Luke learned quickly that a stationary target is more readily accessible than a mercurial one.
"I've been trying to work on my speed mostly," he said, "and my change of direction. Also at taking a hit and putting on a hit."
Preseason injury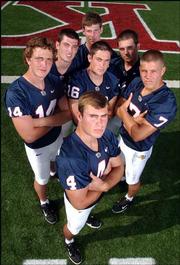 Late in the 2002 season, Luke suffered not only from simple inexperience but from the fact he had missed about six weeks of physical drills after suffering an injury to his throwing hand in preseason work.
"It set me back as far as practice time," Luke said, "but it forced me to stay in the game mentally."
Although not as mobile as Whittemore, Luke is hardly a turtle.
"He's a classic dropback passer," said Nick Quartaro, KU's offensive coordinator and quarterbacks coach, "but he moves pretty good for a guy his size. He came out of the spring as No. 2, and he's on target for making steady improvement."
Joe Hogan, a 6-2, 185-pound red-shirt freshman from Sallisaw, Okla., is in the same position this year that Luke was last year. Hogan knows the system, but he doesn't have a single down of college experience, and Quartaro hopes he doesn't have to rush him to duty like he did Luke.
"He's a good, quality young guy who needs time to develop," Quartaro said of Hogan. "He came in at 170 pounds. He's up to 185 now, and I see four good years ahead for Joe."
Nielsen impresses
Quartaro may be able to bring Hogan along slowly if John Nielsen, a walk-on junior transfer from Palomar (Calif.) JC, is as competent as Quartaro thinks he is.
"He's getting a fair amount of work," Quartaro said of the 6-3, 205-pounder from San Diego. "He has a great understanding of the game of football, and he's the type of guy who wouldn't make mistakes."
Nielsen was only a back-up as a sophomore last year, in part because of a thumb injury, but he and his juco coach sent out about a dozen tapes, including one to Kansas.
"Coach Q called and he made it sound good, that I'd have a great opportunity and that Kansas was a great school," Nielsen said. "The other school I considered was Utah, but they didn't seem quite as interested. Right now I'm just excited to be here."
Nielsen participated in spring drills and spent the summer in Lawrence, so he has a grasp of what's going on. In essence, he and Luke appear to possess similar skills.
"Both are better in the pocket," Quartaro said, "but both can throw on the run. You can't sit like a statue anymore and be a Division One quarterback."
Long back in picture
Kevin Long is the X-factor in the mix. Heavily recruited out of Iowa City, Iowa, West High five years ago, the 6-5, 235-pound Long was lured to Kansas by former head coach Terry Allen, himself an Iowa City West product.
Long has been slow to develop as a college player, however. Now a fourth-year junior, he was tried first at quarterback, then at tight end and wide receiver, but he never found a home. Now he's back at QB again by his own request.
"He's a big, strong guy," Quartaro said of Long, "and he's working hard to make up for lost time."
The Jayhawks' fourth quarterback on scholarship is Adam Barmann, a 6-4, 210-pound true freshman from Weston, Mo., who produced some impressive passing numbers at West Platte High, a school with an enrollment equivalent to a Class 4A school in Kansas.
"We knew a little about him. We knew he was tearing it up against small schools," Quartaro said. "Then we had him in camp in Wichita, and we saw he had all the skills. Once I saw him stand flat-footed and dunk a basketball."
Barmann true freshman
Barmann, like the bulk of freshmen at Division One schools, probably will be red-shirted, particularly with so many quarterbacks with more maturity ahead of him.
In the big picture, it's no secret Mangino and Quartaro hope the talented and experienced Whittemore will be able to play every down of every game on offense.
"I think he has better endurance this year," Quartaro said. "I know his arm is stronger and that he's 100 percent physically, and that's the main thing."
Nevertheless, because of injuries, Whittemore has never lasted through a complete college season -- not at Tennessee-Martin as a freshman, not at Fort Scott CC as a sophomore and not at KU as a junior.
When Whittemore went down with three games remaining last year, the Jayhawks' productivity at quarterback declined precipitously. If he were to go down again this fall, another dropoff would be inevitable.
Depth? Definitely
However, because of more bodies and more experience at the QB position, it's highly unlikely Mangino and Quartaro would find themselves in such desperate straits that they would be forced to move Zach Dyer from safety back to quarterback as they did in last season's finale against Oklahoma State.
"I don't think there's any question we have more depth," Quartaro said.
Copyright 2018 The Lawrence Journal-World. All rights reserved. This material may not be published, broadcast, rewritten or redistributed. We strive to uphold our values for every story published.